Video:
Cephalopod Week in the Cascadia Margin
Diving in the deep, a cockatoo squid shoots ink and octopus creep!
These are just a few of the curious camouflaged creatures we saw while exploring the Cascadia Margin for methane seep bubble streams during #CephalopodWeek.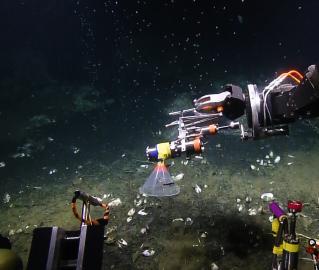 Expedition
The main objectives of this expedition are to explore for methane seeps and hydrate sites and to characterize their associated ecosystems along the U. S. Cascadia Margin. Gas hydrates and gas-filled pockets present in sedimentary deposits provide large reservoirs for methane in the Earth's crust, and the importance of methane as a potent greenhouse gas has been recognized in recent years.