Video:
Many-Armed Creatures of Heceta Bank
Feathery, coiled, or covered in suckers, the many-armed species of Heceta Bank span the animal kingdom. Off the coast of Oregon, the Nautilus team spotted giant Pacific octopus, basket stars, and feather stars dotting the seafloor--a few riding along on the backs of crabs!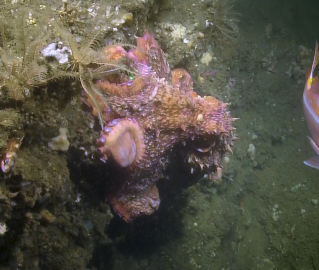 Expedition
Returning south along the coast of Oregon, this expedition will conduct geophysical surveys near Heceta Bank in order to search for late Pleistocene-aged remnant landforms and possible archaeological sites. This is a multidisciplinary problem that requires data generated by Earth scientists and archaeologists to answer questions about past coastal environments and prehistoric human migration.