Video:
Sea Lions Swirl Through Squid Squad
Stealthy and swift, sea lions slurp their way through a squad of squid--right in front of our cameras! This predation event was spotted at 100m as ROV Hercules was completing an exploratory dive in Channel Islands National Marine Sanctuary.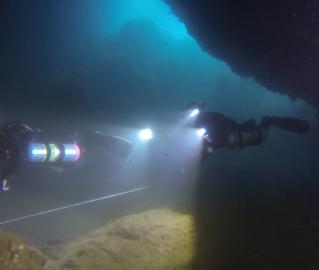 Expedition
The Channel Islands National Marine Sanctuary (CINMS) is one of the agencies tasked with the protection of deep-water habitats, commercially important species, and deep sea coral ecosystems around the islands, yet lacks a detailed understanding of the distribution, abundance, and condition of the resources within the Sanctuary. Less than 50% of the seafloor within the CINMS boundaries has been mapped by high-resolution sonar, and the 2016 Nautilus expedition to the same region worked to cut this knowledge gap nearly in half.