Video:
Endeavour Hydrothermal Vents
At the Endeavour site, a northern segment of the Juan de Fuca Ridge, the earth's tectonic plates are spreading apart, and magma is welling up creating new crust. In some places, water is being drawn down below the surface, superheated by the magma (to temperatures over 400°C/750°F), and expelled through hydrothermal vents. These vents deposit dissolved minerals on the seafloor and overtime build up to become large chimneys. E/V Nautilus encountered some extraordinarily large and elaborate examples of these smokers on a recent June 2017 dive in partnership with our partners at Ocean Networks Canada.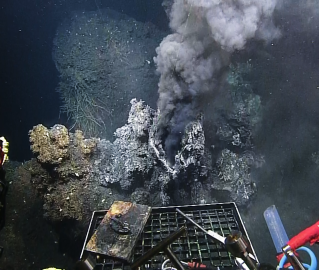 Expedition
E/V Nautilus will launch her third season in the Pacific Ocean exploring Canadian waters with Ocean Networks Canada (ONC). ONC operates world-leading cabled ocean observatories that supply continuous power and Internet connectivity to a broad suite of subsea instruments. The ONC NEPTUNE observatory installation, off Vancouver Island's west coast, spans one of the widest ranges of ocean environments found anywhere in the world.