Video:
Wreck of SS Dorothy Wintermote
White-plumed anemones encrust SS Dorothy Wintermote, a cargo steamer that sunk in 1938 with a valuable load of lumber, coffee and household goods. We explored the wreck near San Francisco with our partners from Greater Farallones National Marine Sanctuary.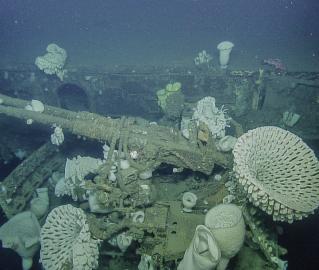 Expedition
Nautilus will return northward along the California coastline for a cruise to study the cultural heritage and natural wildlife in the Greater Farallones National Marine Sanctuary (GFNMS). Recently expanded to protect 3,295 square miles, GFNMS contains over 400 shipwrecks and is largely unexplored in the deepest portions. Nautilus will survey the USS Independence, a World War II-era naval ship and former aircraft carrier, once used in the atomic tests at Bikini Atoll in the Pacific.