Video:
Feast Fit for a King Crab
Scurrying along the seafloor on eight legs, deep sea crabs scavenge bits of decomposing detritus floating down from the surface. Meals in the deep sea can be few and far between, so this crab will gain a hefty chunk of nutrition from this unidentified gelatinous glob. Larger crabs like this one have little need to hide within rocks or burrows--a pair of sharp claws keep other animals from getting too close.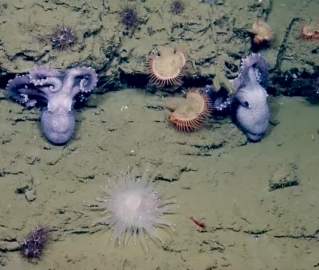 Expedition
Beneath the waves, the California coastline shares the same rugged topography as its shoreside parallel. Many submarine canyons cut across the continental slope, carrying shallow water life and shorebased nutrients efficiently into the deep sea. A stark contrast from the steady, sloping topography of the continental shelf, deep sea canyons provide steep gradients that provide a unique way to study biological communities and geochemical processes.