Video:
Sea Cucumbers of the Deep
The Windward Passage connecting the Caribbean Sea and Atlantic Ocean seems to be a hotspot for echinoderm life, particularly these holothurians (better known as sea cucumbers). We've spotted them on the seafloor and in the water column, and in all shapes and sizes - for more information on sea cucumbers and what defines a "pelagic holothurian," check out this awesome blog post at the Echinoblog: http://echinoblog.blogspot.com/2012/09/deep-sea-swimming-sea-cucumbers-and.html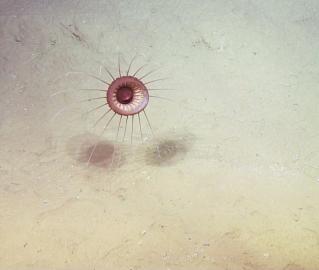 Expedition
The Windward Passage, located between Cuba and Haiti, is a major conduit between the Atlantic Ocean and Caribbean Sea. It is a site of complex currents, mixing and exchange of water that have been little explored despite the historical importance of this region as a major shipping route. This region also represents a very active portion of the northern Caribbean plate boundary, where several geologic (seismic and tectonic) features and processes occur along the seafloor beneath the Windward Passage.