Video:
Beautiful Sea Sponges of the Windward Passage
E/V Nautilus is exploring the ocean studying biology, geology, archeology, and more. Watch http://www.nautiluslive.org for live video from the ocean floor. For live dive updates follow along on social media at http://www.facebook.com/nautiluslive and @evnautilus on Twitter. For more photos from our dives, check out our Instagram @nautiluslive. 
Nautilus has spotted a number of beautiful glass, tornado, and other sponges during our exploration of the Windward Passage - watch as we get up close and personal with several of these beautiful animals.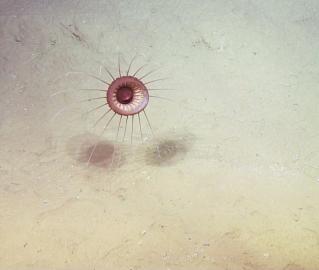 Expedition
The Windward Passage, located between Cuba and Haiti, is a major conduit between the Atlantic Ocean and Caribbean Sea. It is a site of complex currents, mixing and exchange of water that have been little explored despite the historical importance of this region as a major shipping route. This region also represents a very active portion of the northern Caribbean plate boundary, where several geologic (seismic and tectonic) features and processes occur along the seafloor beneath the Windward Passage.