Video:
A Sunken Steamer: SS Alcoa Puritan
The SS Alcoa Puritan was sunk by German U-boat U-507 in the Gulf of Mexico in May, 1942. E/V Nautilus visited the wreck as part of an exploration documenting the results of Operation Drumbeat, the German Naval offensive in the Gulf of Mexico.
Stay connected!
- Watch us live on nautiluslive.org
- Like us on Facebook at facebook.com/nautiluslive
- Connect with us on Twitter @evnautilus
- Follow us on Instagram @nautiluslive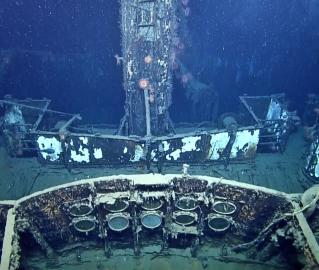 Expedition
This expedition focused on documenting the myriad natural and cultural resources that lie in U.S. waters for the joint National Geographic and 60 minutes television special, The Unknown America. Some exploration sites visited include brine pools, deep-water coral reefs, and several shipwreck sites.