Video:
Stunning Siphonophore Sighting
This beautiful colonial organism drifted past Hercules' cameras, and we followed it for as long as we could keep track. They are made up of many smaller animals called zooids, and can be found floating around the pelagic zone in ocean basins around the world. One famous siphonophore species is the deadly Portugese Man O' War. 
Related Content:
Get Dive Alerts: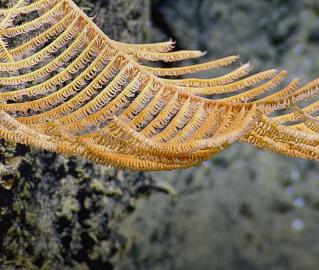 Expedition
This cruise is part of a larger research program focused on examining the ecosystem-level response to oil and gas in the Gulf of Mexico. The research group leading the cruise is called the Ecosystem Impacts of Oil and Gas Inputs into the Gulf of Mexico (ECOGIG) Consortium, which is made up of scientists from a wide variety of disciplines studying current flow, ocean chemistry, microbial activity, deep-sea coral communities, and everything in between.