Video:
U-boat Wreck Dive: U-2513 Revealed
On Monday, June 17th, the E/V Nautilus explored the wreck of German U-boat U-2513. We conducted a survey of the wreck to examine its condition and then created a photomosaic map of the entire site. The dive was in water considerably more shallow than we are used to operating in, so light and murky conditions posed a unique challenge.
U-2513 surrendered to Allied forces in May of 1945. After a few stops in Europe, ownership of the sub was turned over to the U.S. Navy for research on the U-boat's design and on potential antisubmarine warfare tactics. While it was on duty near Key West, it played host to then-President Harry S. Truman, who was the first sitting U.S. President to make a trip underwater in a submarine. 
After traveling around to various naval bases up and down the East Coast of the U.S., U-2513 was decomissioned in 1949 and lay unused in Portsmouth, NH for two years. In 1951, the Chief of Naval Operations ordered the boat "sunk by gunfire," and it made one final trip down the coast to Key West. On October 7th 1951, almost seven years to the date after it was comissioned, it was sunk in rocket tests by a U.S. Navy Destroyer off the coast of the Dry Tortugas, where it has rested ever since.   
Stay connected and share this with friends!
- Like us on Facebook at facebook.com/nautiluslive
- Connect with us on Twitter @evnautilus
- Follow us on Instagram @nautiluslive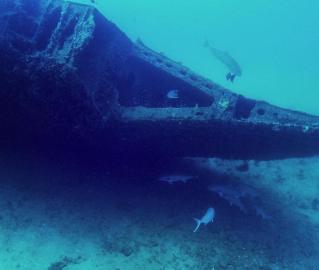 Expedition
NOAA's Office of National Marine Sanctuaries selected two deep-water areas off southwest Florida to better understand the ecological connectivity of deep-water biological habitats and communities to the Florida Keys National Marine Sanctuary, the Tortugas Ecological Reserve, and Pulley Ridge Habitat.