Video:
Introducing USV DriX: Networked Multibeam Mapper
We're integrating new teams and technologies with the Ocean Exploration Cooperative Institute; meet DriX! 
Uncrewed surface vehicle (USV) DriX is a 7.7 m long vehicle with an innovative wave-piercing bow and diesel propulsion system providing high speeds and long endurance for many applications. Designed by iXblue, the hybrid remote-controlled and autonomous DriX is operated by the Center for Coastal and Ocean Mapping/Joint Hydrographic Center (CCOM/JHC) at the University of New Hampshire. Whether operating as a mapping platform or as a communication relay for supervising other underwater vehicles, DriX helps move ocean exploration towards multi-platform parallel operations, thereby greatly expanding how much can be accomplished in a single mission. DriX is joining us on E/V Nautilus for our third expedition of 2022 featuring NOAA Ocean Exploration Cooperative Institute partners in a collaborative effort to test, refine, and demonstrate new technologies working together to expand our capabilities to explore the world's ocean.
DriX uses three main types of sonar, the first being EM2040 Multibeam sonar (200-400 kHz), which provides seafloor swath-mapping in shallower water than the Nautilusʻs EM302 Multibeam 30kHz system. DriX also carries an EK-80 Single Beam Fisheries Echosounder with 7-degree, 200kHz (and optionally 70kHz) transducers. This sonar helps reveal dynamics of the midwater including seeing species vertical migration through the water column and can guide midwater-specialist vehicle AUV Mesobot. Finally, DriX is also equipped with a Sonardyne "HPT3000" combined Ultra-Short Base-Line (USBL) sonar and underwater acoustic modem.
Learn more about this expedition funded by NOAA Ocean Exploration via the Ocean Exploration Cooperative Institute.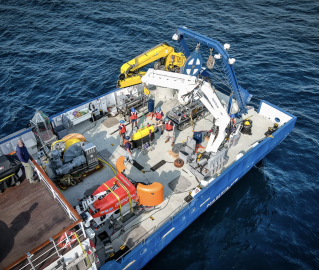 E/V Nautilus Expedition
A key objective of the NOAA Ocean Exploration Cooperative Institute (OECI) is to develop the tools and technology that enable ocean exploration activities to be conducted remotely or without human supervision.