Technology:
Deep Autonomous Profiler (DAP) Lander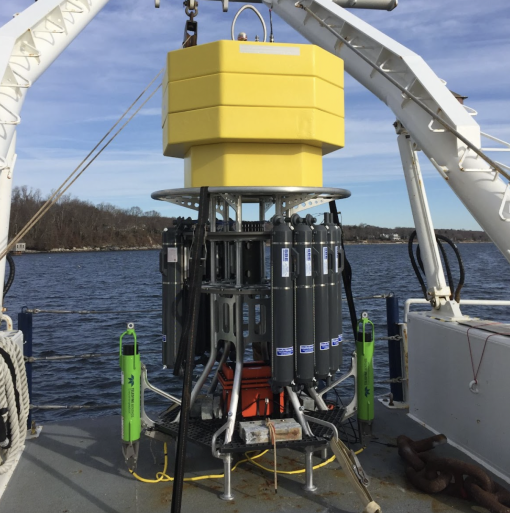 Ocean Exploration Trust
The Deep Autonomous Profiler (DAP) Lander was designed to collect water samples at various ocean depths to determine physical oceanographic properties, seawater composition, and biological communities of the deepest places in the world's oceans. The DAP has been used in the deep waters of the Puerto Rico trench (8300m), where water samples were radiocarbon-dated to help estimate the turnover time and origin of the trench water.  
Owned and operated by the University of Rhode Island's Graduate School of Oceanography, the DAP can carry up to 24 Niskin bottles to sample large quantities of water throughout the water column. Additionally, up to four pressure-maintaining sample bottles (provided by the Scripps Institution of Oceanography) allow samples to stay at high pressure. The DAP is also able to make its own sampling decisions.  The vehicle will record data on the descent to the seafloor and then process those data to determine which depths it should collect water samples on the return trip to the surface.  This capability allows the user to make requests such as collecting a sample at the oxygen minimum depth without needing to know that specific depth ahead of time.      
Science & Tech
Ocean exploration is a dynamic balance of understanding science and using the best in underwater technology.
Expeditions
Get a sneak peek of where we're headed next or revisit the discoveries of our past expeditions.
Classroom Resources
OET hosts a suite of free educational materials for use in classrooms, at home, or in the community.
DAP Lander At-a-Glance
11km
3.2m (~12 ft) tall
1400 kg (~3,000 lbs) in air; 1700 kg full of water
SPEED: 70 meters per minute ascending or descending
SAMPLING TOOLS: (24) 12 liter Niskin bottles, Seabird 9 CTD
SENSORS: Seabird conductivity, temperature, depth and oxygen sensors   
POWER: (2) Deep Sea Power and Light (DSPL) Seabatteries  
POSITIONING: Benthos 12km releases, 2 Iridium GPS beacons/strobe/RF, 
LIGHTS/CAMERA: Lights and DSPL video camera, run on a duty cycle