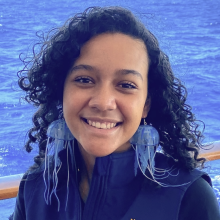 Tori Hunt
She/Her
Science Communication Fellow
High School Science Teacher
Concord High School
Tell us about your work/research. What kinds of things do you do?
I am a high school science teacher who currently teaches Earth and Environmental Science and Physical Science! As a teacher, I strive to empower my students by cultivating identity and criticality within them. My goal as a science teacher is to prepare my students to effectively engage with scientific information beyond their time in my classroom. It is necessary and important that students leave school with a sense of who they are and an understanding of how everything is connected on this planet.
What sparked your initial interest in your career?
My love for science began as a child who loved all things sharks and who dreamt of being a marine biologist one day! This passion led me to a fondness for science throughout school. In high school, I was mostly interested in chemistry, and I participated in a biotechnology mentorship program that was very exciting for me! This program exposed me to scientific research and it was around this time that I decided to pursue some kind of career in science when I got to college. When I left high school, I felt that there was still a lot of chemistry for me to learn. I majored in chemistry and concentrated on secondary education so I could teach high school science. It was my goal to work with young people and get them excited about science while preparing them for whatever their futures hold!
Who influenced you or encouraged you the most?
I am inspired by so many. Along the way, my family and friends have been the greatest support system. They are the ones who push me to challenge myself and help me when I struggle. When I first found out about the science communication fellowship, I shared it with my younger sister to ask if I should apply and she immediately encouraged me to start my application right then. 
During elementary school, my Mom would sometimes print out news articles about new fish and shark discoveries so I could take them to my class. My teacher would let me read these articles out loud to my classmates and share this news that I was so excited about. I can specifically remember coming to class excited to share the news about the discovery of the Mudskipper fish because I saw an article about how they could walk on land!
In addition to my family, I am continuously influenced and inspired by my school community. I feel so lucky to teach where I am! I am surrounded by teachers and administrators who inspire me and coach me to be the best version of myself inside and outside of the classroom.
What element of your work/study do you think is the most fascinating?
I love that every day in teaching is unique! My students always surprise me and I love that I get to do something new every day. Teaching allows me to be creative- I'm always trying to find ways to do new things each semester.
I enjoy being surrounded by the process of learning. I get to watch my students grow in their content knowledge daily, and I am lucky to also witness their growth as people!
What other jobs led you to your current career?
While in college I tried to find opportunities that aligned with my interest in STEM education. I found the perfect role in my sophomore year of college with the Summer Ventures in Science and Math Program on Appalachian State's campus. Summer Ventures brings like-minded high school students together and gives them an introduction to STEM research. Through my role as a residence life instructor, I learned so much about working with high school students. My job entailed living in the residence halls with students, promoting their well-being/safety, and planning adventures (hiking, tubing, exploring local towns, etc.) for them to enjoy outside of class time.
I entered my student teaching and career as a science educator with confidence that this was exactly what I wanted to do. I love seeing young people excited about science! Every summer I learn tons of new things from the research that the students complete. It feels like I leave with a new idea/interest each summer based on something I learned from their presentations at the end of camp.
What are your degrees and certifications?
I hold a B.S. in Chemistry with a concentration in Secondary Education from Appalachian State University.
What advice would you give someone who wants to have a career like yours?
For anyone who is interested in education, I would say stay excited about education and know that it can be a difficult job at times. Along the way, you will need your support systems to help keep you grounded and to help you grow. 
One of the best things I did for myself while in college was find extra opportunities to be in classrooms and around students. Each time I was placed into an internship while in college, I made the absolute most of it and soaked up everything I could. In the summertime, I found summer programs to be a part of. Spending time with students always affirmed that this was exactly what I wanted to do. Anytime you are in a role such as an internship don't be afraid to ask questions- you are there to learn! Be coachable and receptive to feedback, and don't be afraid to ask for help. 
Once you begin teaching, spend time building relationships with people at your school. These are going to be the people who you can go to for help when you need it.
How did you get involved with the Ocean Exploration Trust?
One day I saw a post on Facebook about the application for the science communication fellowship. The caption read, "Are you ready for your deep sea adventure?". I immediately started reading more, and everything I found online affirmed that this was something I had to be a part of!
Expeditions
Tori participated in the following Ocean Exploration Trust expeditions: