Blog:
Understanding Seamount Rockscapes Through An Illustrative Lens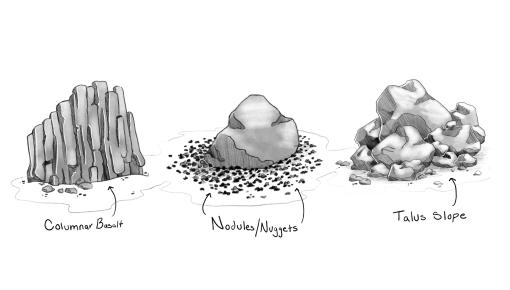 Stephanie Weinger/Ocean Exploration Trust
Illustrations by Science Communication Fellow Stephanie Weinger.
When scientist aboard E/V Nautilus employ ROVs to survey the geological formations found throughout the seafloor, geologists will often delight over landscapes that pass by. You may hear comments such as: 
"Wow thats a nice sheet flow!" 
"Look at that lava tube!"
"We are seeing some beautiful pillows here!" 
Viewers (including us in the control van) gaze at the Zeus screen, which is equipped to the front of ROV Hercules, scanning the seafloor for some extraordinary structures. Yet sometimes, all that can be seen is more rocks. To a geologist, however, each rock formation is different, and together create a geological landscape that works as a window into the past. The following is a list of the common rockscapes that we see on the seafloor, and how they help illustrate the historical story of a seamount. 
Let's explore some of the the different geological formations that make up underwater seamounts.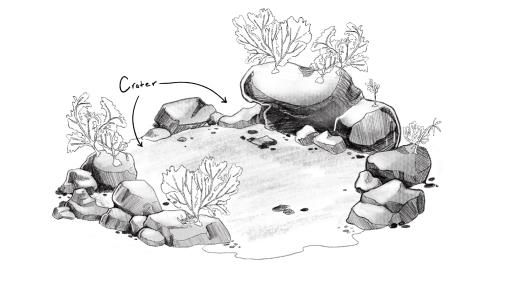 Credit
Stephanie Weinger/Ocean Exploration Trust
Crater
Most seamounts are made from volcanic eruptions that force lava from below the seafloor and up into the ocean. When in comes into contact with the cool water of the deep ocean, the lava cools and forms layers of basaltic rock. Over time, these layers build up and form seamounts. Sometimes at the peak of a seamount, we will find a crater, which is a basin where sediment collects and is surrounded by larger rocks. These craters are usually the main sights of eruptions where lava flows from the earth.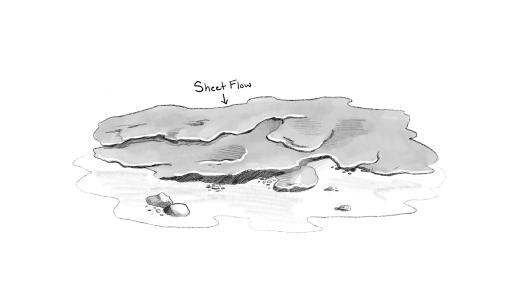 Credit
Stephanie Weinger/Ocean Exploration Trust
Sheet Flow
Along flatter surfaces or gradual slopes, we can find sheet flows. These are broad, thin flows of lava that harden as sheets of rock. Sometimes, Hercules will approach a cliff face. It's in these areas that we can sometimes find layers of sheet flows stacked on top of one another with differing levels of thicknesses, telling us that the site had multiple lava flows and cooling events.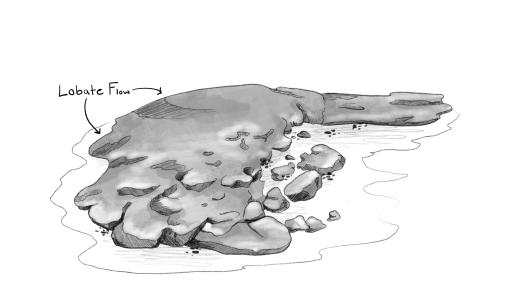 Credit
Stephanie Weinger/Ocean Exploration Trust
Lobate Flows
When flowing downslope, lava sheets can break off into lobes to create what can be described as lobate flows. Unlike sheet flows, lobate flows branch off from an original sheet and pool as they reach the bottom of the slope. 
Credit
Stephanie Weinger/Ocean Exploration Trust
Lava Tube
As lava continues downslope and as the volume of the flow decreases, the top layer will begin to harden and crust over – but lava will remain flowing underneath it. This will create an elongated structure called a lava tube. The lava within the tube will harden to create a solid structure, however, some can sometimes be drained out to form a classic tube.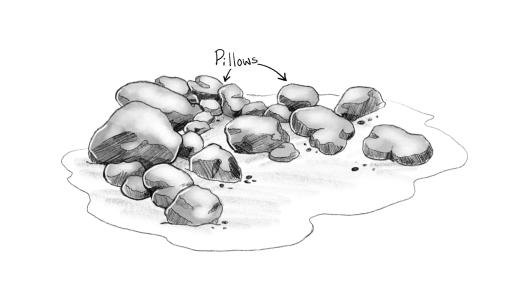 Credit
Stephanie Weinger/Ocean Exploration Trust
Pillows 
Finally, toward the end of a flow, lava will bubble out of lava tubes or pile together and form what are known as pillows. Pillows can also be seen on sheet flows if the flow of lava is particularly thick or uneven.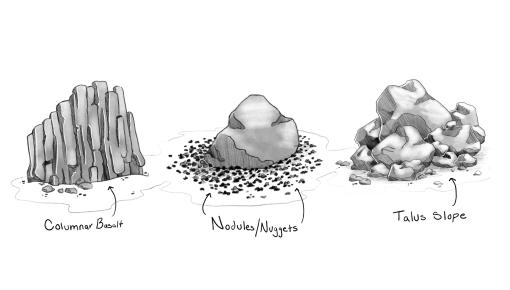 Credit
Stephanie Weinger/Ocean Exploration Trust
Columnar Basalts, Nodules, and Talus
Other rock scapes that are commonly seen include columnar basalts, which form from the slow cooling of a thick lava flow. Nodules, or nuggets, are small chunks of rock usually found congregating in one place that is formed by either a pillow that has been ejected or from being splashed away during a lava flow. A talus slope often occurs below a steep slope of a seamount by a landslide or weathering of a slope and is comprised of fallen rocks and boulders. 
While there are many different formations that can be found along a seamount, these are some of the most common. With plenty of time and practice, it is easy to spot out different flow types. Once you understand how lava flows and hardens at the seafloor, you too can begin to puzzle together the events that unfolded during the eruption that created the seamounts we are exploring today! 
E/V Nautilus Expedition
In August 2023, we will return to the Central Pacific for 27 days of exploration within the Johnston Atoll Unit of the Pacific Remote Islands Marine National Monument (PRIMNM), starting and ending in Honolulu.