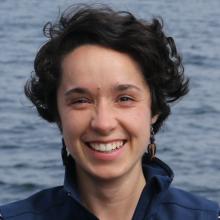 Samantha Wishnak
Navigator
Operations Coordinator
Ocean Exploration Trust
Tell us about your work / research. What kinds of things do you do?
Currently, as Operations Coordinator for Ocean Exploration Trust I assist with cross-department planning and operational logistics for at-sea expeditions, and sail aboard E/V Nautilus as a navigator, mapper, and co-expedition lead. I joined OET and sailed aboard Nautilus for the first time as a Science Communication Fellow in 2016. Moving into the role of Communications Manager, I transited between land and sea to share our sightings, stories, and stubby squids through social media, the Nautilus Live website, and global press outlets. I have the joy of collaborating with an innovative and supportive group of scientists, engineers, educators, and crew that work together to bring ocean exploration live around the world. 
What sparked your initial interest in your career?
My parents introduced me to the conservation-focused Monterey Bay Aquarium when I was four months old--and I've had an unwavering sense of wonder for the oceans ever since. My childhood bedroom featured a Disney poster and a map of the Monterey submarine canyon! Later, I was obsessed with everything Titanic-related, but more for the underwater robots than the history or romance. Those early influences always stuck with me, even while pursuing different interests during and after college. 
Who influenced you or encouraged you the most?
My folks have always nurtured my interest in being outdoors, with family camping trips and frequent visits to the tidepools and aquarium--and by valuing summer opportunities to learn and explore. With their encouragement, I've been able to take some non-linear leaps that have allowed me to follow work I love. At York School, educator Kim Kiest brought marine science and technology alive for me with hands-on lessons, goofy drawings and an infectious joy in sharing her experiences from the field. I continue to draw on her classes for my core marine biology knowledge and inspiration for bringing others into the world of ocean exploration. 
What element of your work / study do you think is the most fascinating?
Being able to connect marine science with accessible technologies. Only a few people will explore space, but the cameras onboard ROV Hercules and ROV Argus allow us to all be ocean explorers. Similarly, I love working with students to build OpenROV underwater robot kits--a perfect entry point for connecting deep sea exploration with exploration in your own backyard. People only protect what they understand, and we need to get more eyes in the sea to bridge that gap. Plus, there are some really ridiculously good-looking squid species out there to see. 
What other jobs led you to your current career?
I've been part of the Monterey Bay Aquarium's ecosystem for many years--first as a high school volunteer guide, and later as a sailboat naturalist, informal educator and social media specialist inspiring conservation of the oceans with millions of visitors. Connections made through the aquarium and ocean events led me to refocus my career on sharing my childhood love of underwater robots with students and adults around the world.
What are your degrees and certifications?
Bachelor of Arts in Political Science, University of Chicago; Certified Interpretative Guide, National Association for Interpretation
What are your hobbies?
After learning to scuba dive a couple years ago, I can't get enough of Monterey Bay kelp forests and Baja California reefs. Time on land is also spent exploring new places, noodling on the original writings of marine ecologist Ed Ricketts, and writing new songs for the unofficial Nautilus shipboard band, Starboard Larboard. I also am an advisory board member for the Western Flyer Foundation, restoring the historic vessel Western Flyer to become a floating classroom. 
What advice would you give someone who wants to have a career like yours?
Say yes more and keep an open mind. Leave your comfort zone by going to events you're interested in, even if they're outside your particular field. You never know who you'll meet or what collaborations could come out of it. Don't be afraid to reach out to new people--and keep in touch! Build and maintain supportive relationships with people doing interesting work in your field--some of my most exciting projects have come from former colleagues who recommended me because they remembered my enthusiasm. 
How did you get involved in the Nautilus Exploration Program? How did you get on the ship?
An early Nautilus Live viewer, I got hooked and started streaming deep sea exploration everywhere I went. If we lost audio, I would jump in and narrate, punctuating overviews of deep sea ecology with stories about my favorite sightings (squid!). Long aware of the onboard education opportunities, the opportunity to apply to be a Science Communication Fellow came at a perfect time of transition between working at the Monterey Bay Aquarium and running underwater robot building workshops with OpenROV kits. 
Expeditions
Samantha participated in the following Ocean Exploration Trust expeditions:
Selected Publications
2022
(2022).
New Frontiers in Ocean Exploration: The Ocean Exploration Trust, NOAA Ocean Exploration, and Schmidt Ocean Institute 2021 Field Season.
Oceanography Supplement
34: 1.