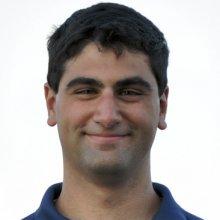 Mike Filimon
Hercules Pilot
Systems Engineer
Lockheed Martin Newport Operations
Tell us about your work / research. What kinds of things do you do?
 I am systems engineer for Lockheed Martin in their Undersea Systems Division. I work on a multitude of projects including autonomous underwater vehicles, navy ships and submarines and oceanographic equipment.  
What sparked your initial interest in your career?
I grew up on the water and was always fascinated with ocean exploration and history. I started SCUBA diving at age 12 and always dreamed of a career that incorporated my passions for ocean exploration and the creation of the tools that made it possible. 
Who influenced you or encouraged you the most?
I have always been a fan of Jacques Cousteau and his ability to explore the oceans and deliver it to the public. He inspired generations of ocean explorers with his books and TV specials. I have also been influenced and encouraged by my Nautilus crew mates throughout the years I have spent at sea with them. Some of the most interesting people I have ever met I have been lucky enough to sail with on the Nautilus. 
What element of your work / study do you think is the most fascinating?
As an engineer, the most fascinating part of my job is to work with my co workers to solve problems involved with developing and operating cutting edge machinery in the hostile ocean environment. In my current position, I enjoy working on programs from the development cycle through to upgrades of older equipment with a variety of experts in different fields to find solutions to the unique problems of ocean operations. 
What other jobs led you to your current career?
  Before joining the Nautilus I had an internship for Great Lakes Dredging which gave me valuable hydro-graphic survey experience. I also attended an Underwater Archaeology Field School through the University of Rhode Island which gave me experience in the rigors of oceanography research and performing science in the ocean environment.   
What are your degrees and certifications?
  I graduated from the University of Rhode Island with a B.S In Ocean Engineering and an Underwater Archaeology Minor in 2011. I continued on earning an M.S. in Ocean Engineering in 2013. I am an experienced scuba diver, with numerous certifications from the Professional Association of Diving Instructors, including Divemaster and AAUS Scientific Diver.  
What are your hobbies?
  I enjoy spending time in the outdoors and on the water as a SCUBA diver and skier. I am an avid racing sailing and enjoy many forms of competitive sailing when I can.   
What advice would you give to someone who wants to have a career like yours?
  I would tell anyone interested in ocean exploration to find local opportunities to perform research, educate and network with other explorers. There are opportunities available in many forms and places and any experience that gets you on the water and involved is always a good stepping stone.   
How did you get involved with the Nautilus Exploration Program? How did you get on the ship?
  I started on the Nautilus as an engineering intern during the 2010 field season. I was a junior majoring in Ocean Engineering at the University of Rhode Island. I applied for the internship with several of my classmates and was fortunate enough to be selected to join the crew that year. I later returned to the Nautilus as an Argus Pilot and eventually a Hercules Pilot.     
"I am excited to return to the Gulf of Mexico after piloting for the ECOGIG Project in 2013. I think it is vital to monitor and protect the health of our oceans and am proud to be a member of the team performing this important work."
Expeditions
Mike participated in the following Ocean Exploration Trust expeditions: