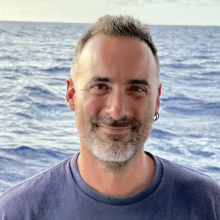 Mike Burns
Deck Chief
Marine Technician
Tell us about your work/research. What kinds of things do you do?
I specialize in heavy equipment operations, scientific equipment deployment/recovery, and small boat operations. Some of the equipment that I have deployed has been in planning stages for groups for years. To see it finally get in the water or be retrieved after years under the sea surface is exciting. When I am not on the back deck conducting operations or behind the helm of a small boat, I enjoy teaching my knowledge and craft. It's great to watch someone learn to tie a new knot, learn how to change the oil in an outboard engine, or learn how to drive a boat.
What sparked your initial interest in your career?
I grew up on the water since I was able to walk and I have a huge love for sharks and sailing. During my undergraduate schooling, I found that a lot of our equipment for doing shark research would break or need to be serviced and we couldn't be out on the water until it was returned. When I realized that I could combine my interests in repairing equipment and being out on the water was an actual career, it was like that lightbulb turning on. It also has allowed me to see a wide swath of various science from getting to assist with large megafauna to pulling up cores from the sea floor.
Who influenced you or encouraged you the most?
My mom has been my biggest fan. She encouraged and supported every interest I've had and instilled a drive in me to learn from every event in life. As a kid, she would endure my constant questions of what things were made of which inevitably resulted in the same answer of electrons, neutrons, and protons. She has endured holding random sea creatures, driving me in the early morning to a dive boat, and watching me pull apart parts of her house just to repair and put it back together again.
What element of your work/study do you think is the most fascinating?
Pulling back onboard a successful collection from a piece of equipment is always interesting. To see a pelagic jellyfish come up in a net, a core from near a hydrothermal vent, or even the biopsy sample of a whale. Seeing the scientific group that is associated with the specimens that are being collected excited to get there sample is like seeing someone open up a present that they really wanted.
What other jobs led you to your current career?
The various jobs I've had that have led me to where I am today are as follows: scuba shop gear technician, shark research assistant, fisheries observer, fisheries program coordinator, boat systems repair man, marine debris technician, laboratory technician, marine mammal research technician, Alaska fishing guide, tall ship AB, Antarctic marine technician and survey vessel captain. I've been a firm believer in saying "yes" to random opportunities that come across my path. While my education in marine science has definitely helped pave my way in life, I also must accredit the trade school where I got my second degree. I believe that there are so many skills that are solid life-forming that trade schools offer.
What are your degrees and certifications?
Bachelor of Science in Marine Biology - University of Hawai'i at Manoa 2007; Associates of Science in Small Vessel Fabrication and Repair - Honolulu Community College 2013; USCG 100 ton Master with Sail and Tow Endorsements; STCW Certification; NMEA Basic Installer; Wilderness First Responder; AMSEA Ocean Search and Rescue; Remote Firefighter and SCBA; Bauer Compressor Technician; Marine Spill Response; NOAA Unmanned Aircraft Systems; ABYC Basic Electrical and Corrosion; NOAA Jet Ski Vessel operator; Unmanned Aircraft Systems Visual Observer; NOAA Advanced Coxswain; NOAA Scientific Diver with Special Training Endorsement; NOAA Motorboat Operators Certification; Scuba certifications up to Rescue Diver with Nitrox; First Aide, AED and CPR
What are your hobbies?
Anything on or in the water. From sailing to diving, surfing to paddling canoe. I enjoy being out on multiday hikes, rock climbing, and acrobatics. Our little adventure dog gets sucked into anything that we pretty much do.
What advice would you give someone who wants to have a career like yours?
I would say to just be open to learning anything and everything. Ask a lot of questions. No doubt my education helped me start my career, but it was jumping at opportunities that employers offered in the ways of training and certifications that really helped open other opportunities. Don't be afraid to get your hands dirty and assist others when you see them doing something you want to learn. I have had so many scientists and other contractors come and learn how to do an oil change on an outboard motor I am working on or assist in pulling apart a piece of equipment to service it and put it back together. The ones who are good at what they do are happy to share that knowledge with those who show an honest interest in it. Don't be afraid to ask others if they need an extra hand on a research cruise. I was offered a spot on my first research cruise by asking the project PI if there was space for an extra hand to help.
How did you get involved with the Ocean Exploration Trust?
I applied for the position as Deck Chief after a number of other colleagues had done some work for OET. After sailing with OET at separate times, each stated that they thought it would be a good fit for both OET and myself.
Expeditions
Mike participated in the following Ocean Exploration Trust expeditions: