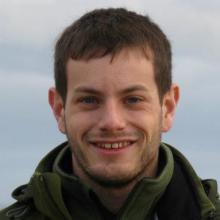 Matt Koskela
Data Engineer
Director of Data Engineering
Ocean Exploration Trust
Tell us about your work/research. What kinds of things do you do?
I am the Director of Data Engineering at Ocean Exploration Trust. Data Engineers make sure that all onboard computers and networks that record, process, store, archive, and present scientific data operate properly and predictably while the ship is underway. We also maintain the connection between the satellite and the ship, which enables the use of telepresence for sharing our at-sea experiences with participants around the world.
What sparked your initial interest in your career?
For as long as I can remember, I've been drawn to the sea. I've also been fascinated with using technology to solve real-world problems. Combining these concepts led me to pursue a career in engineering at sea. It's been a bit of a winding road since then, but I'm constantly trying to improve my understanding of how various pieces of technology work. This way, we can always find the best tool to meet our needs.
Who influenced you or encouraged you the most?
I've been fortunate to have excellent mentors at each of the various stages of my career. The most influential have been the submarine crews that I served with during my time in the Navy.
What element of your work/study do you think is the most fascinating?
I'm most fascinated by our telepresence capability. As we explore and make new discoveries, we can share this scientific data and video in real-time with participants around the world.
What other jobs led you to your current career?
I began my career as a division officer onboard submarines in the US Navy. From there, I worked as a systems engineer in the defense industry, designing and implementing control systems for surface vessels. Most recently, I've been designing and fielding systems that bring automation and control capability to open ocean fish farms.
What are your degrees and certifications?
Bachelor of Science, Marine Engineering Technology -- Maine Maritime Academy 2002;
Master of Engineering, Systems Engineering -- University of Virginia 2013;
Engineer-In-Training (EIT) -- 2011
Scuba Diver
What are your hobbies?
My most consistent hobbies are running and mountain biking. I'm always trying to learn, though, so I try to fit in various classes or lessons when I can make the time.
How did you get involved with the Ocean Exploration Trust?
I decided to apply for this role after a good friend and former colleague alerted me to the opportunity. I feel very fortunate to be able to combine a career in engineering with my love of the sea.
What advice would you give someone who wants to have a career like yours?
For careers in Engineering, it's important to have a solid base in science and math. Beyond the academics, I think it's necessary to foster a healthy curiosity with the way the world works. Take things apart; put them back together again. Don't be discouraged if it doesn't work right afterward. Figure out why, and fix it again. Learn to communicate well, verbally and in writing. Build a solid network of contacts that you can share ideas with and help each other.
Expeditions
Matt participated in the following Ocean Exploration Trust expeditions: