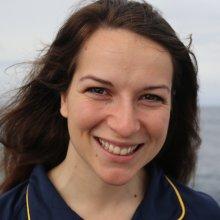 Lindsay Holladay Van Damme
Science Communication Fellow
Marine Science Program Lead
foundry10
Tell us about your work/research. What kinds of things do you do?
I work with a team of people including educators and researchers who aim to expand the way youth learn about and engage with the ocean. We develop, lead, and study the impact of collaborative, interdisciplinary programs like a tabletop role-playing game based on ocean exploration and art workshops that introduce marine science. Part of my job is bridging classrooms and learners to professionals in ocean careers. Another big part of my job is listening to youth and young learners. I get to ask them "what about the ocean fascinates you and what would help you discover more?"
What sparked your initial interest in your career?
Because I didn't grow up near a coast, my early fascination with the ocean was mystical and shaped by popular depictions like 20,000 Leagues Under the Sea, Little Mermaid, and SeaQuest. As a freshman in college, I had the opportunity to take a part-time job as an aquarium educator and fell head over heels in love with learning about the mysteries of our underwater world and sharing it with others.
Who influenced you or encouraged you the most?
My AP Biology teacher single-handedly convinced me I could think like a scientist. Until that point, I never considered a future in biology. And my hero is Sylvia Earle.
What element of your work/study do you think is the most fascinating?
I'm endlessly fascinated by the ways that ocean education can impact youth and educators. In an age of climate anxiety, learning about the ancient complexity and resilience of our ocean is a powerful way to reconnect with both nature and our human place in it. A love of the ocean has changed my life and I'm dedicated to passing that on to the next generation.
What other jobs led you to your current career?
After graduating and leaving my college aquarium job, I researched malaria vaccines in a lab then went back to school to become a high school biology teacher. Several years later, I returned to informal education and worked part-time as a natural science illustrator. Becoming a certified SCUBA diver led to being hired as a Marine Science Interpretive Diver back in an aquarium and ultimately my combined interests and background in education, marine science, art, and research led to my current position at an educational research company.
What are your degrees and certifications?
Bachelor of Arts in Biology - Seattle Pacific University 2008; Masters in Teaching - University of Washington 2011; SCUBA Scientific Diver 2015
What are your hobbies?
I love rock climbing, reading, painting, and gardening!
What advice would you give someone who wants to have a career like yours?
Don't be discouraged if your interests and passions don't seem aligned at first (like video games and hiking or art and sailing). Keep doing what you love and ask questions of anyone and everyone who seems to be doing something similar to what you want to do. Finally, don't be afraid to name what you want and be open to saying "yes" when opportunities come your way! 
How did you get involved with the Nautilus Exploration Program? How did you get on the ship?
I learned about Nautilus Live from an aquarium coworker and streamed the expeditions for several years before applying as a Science Communication Fellow with OET in 2016. After sailing as part of NA072, the original Cascade Margin expedition, I reapplied in 2020 to be a Science Communication Lead.
Expeditions
Lindsay participated in the following Ocean Exploration Trust expeditions: