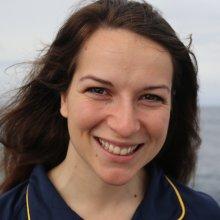 Lindsay Holladay
Science Communication Fellow
Marine Science Interpreter
Seattle Aquarium; The Marine Science & Technology Center
Tell us about your work / research. What kinds of things do you do?
I educate the public about marine science in a lot of different ways. At Seattle Aquarium, I work with dedicated volunteers to interpret marine life for our visitors and I give formal talks on topics ranging from sea otters to the giant pacific octopus to ocean acidification. Some days you might find me talking to our scuba divers, other days I'm dissecting a squid or salmon. At the Marine Science and Technology (MaST) Center I get to work with groups of students in our aquarium and research space. We do hands-on, inquiry based activities related to our local Salish Sea. I also work as a freelance science illustrator, creating images for magazines, books, puzzles, and other media.
What sparked your initial interest in your career?
The idea that there are vast areas of the ocean that humans have never seen and sea creatures we have yet to discover always excites me! Even though I didn't grow up near a coast, I always loved the ocean: 20,000 Leagues Under the Sea, Little Mermaid, SeaQuest. As a kid I read about national geographic expeditions and visited any aquarium I could. While my career has taken several turns, my interest in marine science always pulls me back to ocean education.
Who influenced you or encouranged you the most?
My AP Biology teacher single-handedly convinced me I could be a scientist. Until that point I never saw myself as a scientist or considered a future in biology. And my hero is Sylvia Earle. 
What element of your work / study do you think is the most fascinating?
There are so many fascinating things about working in an aquarium. Since we pump in sea water from outside, we get all kinds of seasonal plankton growing up in our exhibits. Everything from colorful nudibranchs (sea slugs) to tube worms, phoronids, and tunicates come in with the water and I get to introduce them to visitors. Those guests may not have to chance to scuba dive or explore underwater and see these creatures in any other environment, so it's important that they leave with a positive interaction. 
What other jobs led you to your current career?
I've worked as a laboratory technician, a malaria researcher, an art teacher in Sierra Leone, and a housecleaner. I've had volunteer positions and unpaid internships. There are times when I get paid to do what I love and times that I have a paying job that allows me to do what I'm passionate about. I think the important thing is to always approach every job with dignity and a positive, learning attitude. 
What are your degrees and certifications?
Bachelor of Arts in Biology, Chemistry minor -- Seattle Pacific University 2008; Masters in Science Teaching -- University of Washington 2011; Certified Natural Science Illustrator; PADI Rescue Certified Scuba Diver
What are your hobbies?
I try to be outside whenever I can. I rock climb and scuba dive year round. I backpack in the summer and snowshoe in the winter. I also draw a lot, sometimes outside.
What advice would you give someone who wants to have a career like yours?
If you're interested in having a career in marine science education, practice public speaking, work on your writing skills, and study areas of current research. Be focused on what you're passionate about, but open to new ideas and opportunities. Have fun in the process, there are amazing and diverse opportunities out there for those of us who want to help bridge understanding and interpret the marine world for a wider audience. 
How did you get involved with the Nautilus Exploration Program? How did you get on the ship?
I watched the expedition from shore the last two years and imagined what it would be like to one day embark on a modern voyage of discovery. I applied, interviewed, got selected, and now I'm thrilled to be part of this awesome team!