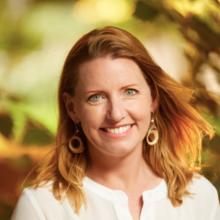 Kelly Koller
She/Her
Education Team Member, Sharks Project
Technology Integration Specialist
Bay View Middle School
What is your history of engagement with the National Geographic Society?
I am a 2018 Grosvenor teacher fellow and a 2019 and 2020 grantee; two related but separate education projects. I am also a National Geographic Certified Educator
Tell us about your work/research. What kinds of things do you do?
Day-to-day, I specialize in education and technology. But on this expedition, I also am specializing eDNA water sample collection and filtration, web development and mapping through ArcGIS.
What sparked your initial interest in your career?
On this expedition, I am wearing multiple hats: educator, technologist, creator, and scientist. When I was young, I had a really hard time picking what I wanted to study after graduating from high school; not because I wasnʻt interested in anything; rather, it was because I was interested in everything. For me, education has been a fantastic career because I've been able to explore so much, and have always been with wonderful colleagues and energetic students.
What element of your work/study is the most fascinating?
The most fascinating part of this project to me is the process of connecting ancestral knowledge with developing technologies in research.
What other jobs or skills led you to your current position?
For me, I have had a constant path of trying new things, thatʻs what keeps my mojo going. I also am a really hard worker and always am on the lookout for something interesting. Even at my first job as a dishwasher at a 50s diner I remember loving learning how to use the giant dishwashing machine, then how to make ice cream and malts, etc. Over time, I began to develop the skill of breaking down a large project into manageable steps that I enjoy navigating. When I reflect on it, I think thatʻs one of the best skills I have gained and contributed to a team.
What are your degrees and certifications?
I have a Bachelor of Science in Technology Education (2002) and a Master's Degree in Teaching and Learning (2021)
What are your hobbies?
I love doing outdoorsy stuff with my family and friends, like hiking, camping, backpacking, kayaking, and love learning about botany and nutrition. We also have 10 chickens and a new puppy that keep us busy.
What advice would you give someone who wants to have a career like yours?
My best advice is to discover and follow what you care about and the skills you are interested in developing, even if they donʻt seem like they relate. Then when you apply creativity and think integratively, you will find beautiful connections that fuel a sense of purpose in your work.
Expeditions
Kelly participated in the following Ocean Exploration Trust expeditions: