Photo album:
Snapshots From the Field: Searching for Sharks
As part of the first expedition of OET's expanded ocean exploration program, From Shore to the Abyss, a team of scientists, conservationists, and educators have been conducting research to quantify shark and ray diversity and relative abundance around Maui and the island of Hawai'i using low-impact and non-invasive research techniques. This expedition is made possible by a collaborative partnership between OET and National Geographic, resulting in a high-impact expedition that advances our discovery of multiple disciplines of oceanography, marine ecology, and conservation.
E/V Nautilus Expedition
In our first leg of the brand-new expedition series From Shore to the Abyss, we are teaming up with (and receiving funding from) the National Geographic Society to study shallow waters near Maui and Hawaiʻi island. Project teams on this leg will combine cutting-edge technologies with indigenous Hawaiian knowledge to increase knowledge and understanding of marine life. The work will focus on sharks and marine mammals—apex predators who are culturally significant to the Hawaiian people.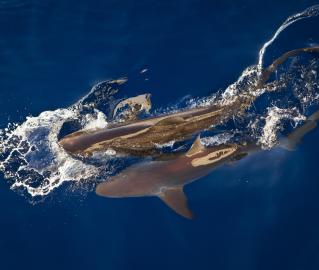 E/V Nautilus Expedition
In our second leg of the From Shore to the Abyss program, OET and National Geographic Society are exploring the waters of Maui and Hawaiʻi island while studying sharks and microplastic pollution investigating the intersection of humans and the ocean environment to inform policy and management of this ecosystem.