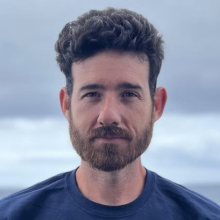 Drew Cole
Deck Chief
Technician
Tell us about your work/research. What kinds of things do you do?
I specialize in deploying oceanographic equipment from surface drifters to full ocean-depth moorings. My job with OET is to ensure that whatever equipment the science team provides is deployed and recovered safely.
What sparked your initial interest in your career?
I grew up in Maui where the ocean was a big part of my life. After college I had the opportunity to be an intern on a research vessel. I was able to experience an aspect of the ocean I hadn't experienced before and quickly realized that being involved with oceanographic research was the path for me.
Who influenced you or encouraged you the most?
Having worked on over a dozen different research vessels, I've been lucky enough to be influenced by many talented and dedicated people.
What element of your work/study do you think is the most fascinating?
The most fascinating aspect of my job is when I have to think out of the box to come up with a solution to a challenging situation, either due to weather or the design of the equipment.
What other jobs led you to your current career?
I started as an intern for Scripps Institute of Oceanography. I worked for SIO for a decade before becoming an independent contractor. In my off time, I have also run fishing charters.
What are your degrees and certifications?
I attended the Marine Education and Training Center in Honolulu. I have a 100 Ton Captain's License.
What are your hobbies?
I am an avid fisherman and diver. I also enjoy camping and hiking. I've also recently taken up pickleball.
What advice would you give someone who wants to have a career like yours?
Fight for an opportunity to get on a ship and work harder than you've ever worked in your life. Ask questions. Volunteer for everything. Be the person that's up first and on deck and ready before everyone else. Your drive and effort will quickly be appreciated and you'll be given the opportunity to learn and participate.
How did you get involved with the Ocean Exploration Trust?
After many years of working as an independent contractor throughout the research vessel fleet, an opportunity to work with OET presented itself and I jumped at the opportunity.
Expeditions
Drew participated in the following Ocean Exploration Trust expeditions: