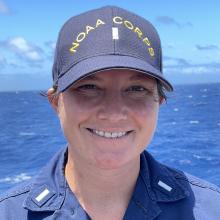 Airlie Pickett
Drix Mapper
Graduate Student/LTJG
University of New Hampshire
Tell us about your work/research. What kinds of things do you do?
I specialize in Ocean Mapping. As a member of the Coast Survey, my job is to map and characterize the sea floor for safety of navigation, scientific exploration, seafloor characterization for habitat mapping, and resource allocation, amongst other numerous applications.
As a NOAA Corps officer, my assignments have taken me a number of places, and I have experience sailing on mapping and/or scientific missions in the Pacific (West Coast, Alaska, and Hawaii) as well as the Atlantic and Gulf of Mexico.
What sparked your initial interest in your career?
I have always loved the ocean. I grew up on the coast in Eastern North Carolina on the water, spending my summers surfing and diving. I attended the University of North Carolina at Wilmington and graduated with a degree in Physical Oceanography. While there I became a Divemaster for my University and participated in a number of research projects for UNCW and Duke University. During this time I was also introduced to NOAA and the NOAA Corps and became interested in the missions the organization supports and the career path.
Who influenced you or encouraged you the most?
My parents inspired my love of the ocean, and the numerous instructors I have been lucky enough to have over the years have been instrumental in giving me the tools (and belief in my own capabilities) to continue to succeed in the field.
Over my past five years in the NOAA Corps, I have had the great privilege of being surrounded by mentors, both other officers as well as NOAA civilians, that have helped guide me along the way.
What element of your work/study do you think is the most fascinating?
Bathymetry is beautiful, and the process of watching the way the ocean floor unfolds as you're mapping is a bit like scientific poetry.
What other jobs led you to your current career?
Dive Master/Scientific Diver
What are your degrees and certifications?
Bachelor of Science in Physics: Physical Oceanography — University of North Carolina at Wilmington, 2017
What are your hobbies?
I have surfed my entire life, love scuba diving, and recently picked up Mountain Biking and Rock climbing. I also play the violin on occasion.
What advice would you give someone who wants to have a career like yours?
Don't be afraid to go for it. And know that no one knows what they're doing until they do it.
Expeditions
Airlie participated in the following Ocean Exploration Trust expeditions: