Expedition Summary:
Science Seminar: With our powers combined... Innovative multi-vehicle concepts of operations on Nautilus
Wednesday, September 29, 2021 — 9:00 am Hawaii • 12:00 pm Pacific • 3:00 pm Eastern
Join the conversation to learn more about how the NOAA Ocean Exploration Cooperative Institute (OECI) is bringing together partners to advance the pace and practices of modern ocean exploration. 
Join Ocean Exploration Trust (OET) and Woods Hole Oceanographic Institution (WHOI) for a one-hour look at an exciting multi-vehicle technology and concept of operations test expedition aboard Exploration Vessel Nautilus. Presented by team members live at sea off the coast of Southern California, this event will feature OECI Associate Director Jason Fahy, WHOI National Deep Submergence Facility Director Andy Bowen, WHOI Senior Scientist Dr. Dana Yoerger, and OET Director of Education and Outreach, Megan Cook. Bring your questions for the team out at sea as they share early results from this operation testing mission.
This is the third seminar in a six-part OECI series.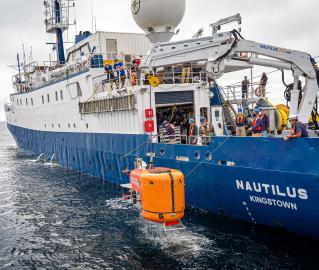 E/V Nautilus Expedition
This expedition aboard E/V Nautilus will support the testing of novel or emerging capabilities with two different autonomous underwater vehicles from Woods Hole Oceanographic Institution (WHOI).