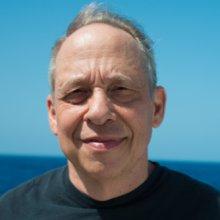 Dana Yoerger
Mesobot EL
Senior Scientist
Woods Hole Oceanographic Institution
Tell us about your work/research. What kinds of things do you do?
I lead a team that designs, builds, and operates marine robots in the service of science. My specific tasks include coordinating our proposal efforts, the projects to design, build, and test the robots, and specifically working on the vehicle's automatic control system and data systems. I especially enjoy interacting with scientists from different disciplines of oceanography in order to utilize robots most effectively. I enjoy being at sea and interacting with the vessel crew and science party.

What sparked your initial interest in your career?
I was interested in robotics as a graduate student at MIT and we were trying to understand how they could be useful underwater operations for military, commercial, and scientific projects. When I was a post-doc, my advisor called me up one day and said "I have a visitor who I think you'd like to meet". That visitor was Dr. Robert Ballard. I remember looking at the clock about 10 minutes into his presentation about the Argo/Jason system. I knew what I wanted to do! That was nearly 40 years ago, and I've worked at WHOI ever since.
Who influenced you or encouraged you the most?
For sure, my parents come first. Neither had been able to get a college education and they were determined that my brother, sister, and I would. I had some great teachers throughout school, particularly at MIT. My undergraduate and graduate advisors were heroes to me.
What element of your work/study do you think is the most fascinating?
Science depends on technology especially in a harsh environment like the ocean. Coming up with new tools and using them to produce scientific results is a fascinating process.
What other jobs led you to your current career?
My first job was at Mcdonald's. I had a great boss there, we called him "Big Mac Daddy", but of course never to his face (he was Mr Moon to us). He taught me a lot about leadership. I didn't know it at the time, but he had retired from the US Army where he had served as a mess Sargeant. As an undergrad, I worked part-time at Draper Labs. The engineers and technicians there taught me a lot of valuable lessons about engineering and how to conduct oneself in a high-tech workplace. They were building oceanographic instruments, and I learned a lot.
What are your degrees and certifications?
Bachelor of Science, Master of Science, PhD, all from MIT in Mechanical Engineering
What are your hobbies?
Almost anything outdoors, hiking, biking, skiing, kayaking, birding, fishing, gardening. I love music, movies, and sports. I know much more about baseball than I should.
How did you get involved with the Ocean Exploration Trust?
I have known many of the folks who lead OET. In addition to Ballard, I met Allison Fundis when we sailed together when she was an undergraduate. Most recently, WHOI became part of the Ocean Exploration Cooperative Institute, which is lead by OET.
What advice would you give someone who wants to have a career like yours?
Engineering is a great career path to the oceans. We always need more highly capable engineers. People ask "how can I get a chance to go to sea". I always answer: "learn analog electronics, electrical power systems, and embedded programming". People think I'm joking but I'm not.