Ocean Exploration in the Lakes: History of Thunder Bay NMS
Tuesday, June 8, 2021 — 11:00 am Hawaii • 2:00 pm Pacific • 5:00 pm Eastern
World Ocean Day meets the Great Lakes! Ocean Exploration Trust is beginning the 2021 season in Michigan on Lake Huron for a 3-week expedition. Join us for a look back into the history of scientific exploration in Thunder Bay National Marine Sanctuary including work with OET team members 20 years ago to discover some of the 80+ shipwrecks protected in this area. Bring your questions for a live conversation with Sanctuary Superintendent Jeff Gray, Expedition Leader Dwight Coleman, Mission Support Katie Lohr, and Education Coordinator Sarah Waters to learn how Michigan gained a National Marine Sanctuary, why this region is important to protect, and the many ways you can get involved in this sanctuary and others near you!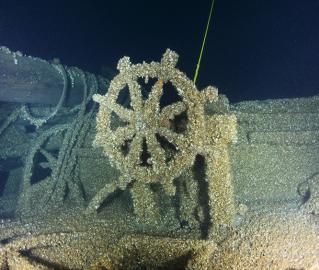 Mobile System Expedition
Continuing from our successful collaborative survey of 153 square kilometers of sanctuary lakebed in 2019, the 2021 exploration project will explore priority areas of the 4,300 square mile Thunder Bay National Marine Sanctuary (TBNMS) with both multibeam mapping and ROV exploration. Working onshore and offshore of Alpena, Michigan, we acknowledge the traditional and contemporary homelands of the people of the Council of Three Fires, the Ojibwe, Potawatomi, and Odawa.