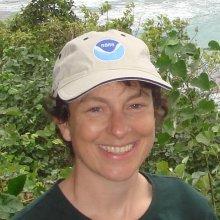 Sarah Waters
Education
Education & Outreach Coordinator
Thunder Bay National Marine Sanctuary
Tell us about your work/research. What kinds of things do you do?
I am the education and outreach coordinator at Thunder Bay National Marine Sanctuary and I have worked in both the fields of archaeology and education. For my master's degree at East Carolina University, I studied the remains of a 19th-century French shipwreck off of Bermuda. At the sanctuary, I help tell the stories of the historic shipwrecks through a variety of projects and programs including exhibits, teacher workshops, STEM learning programs and outreach products that help inspire people to become ocean and Great Lakes stewards.
What sparked your initial interest in your career?
I've always been interested in history, archaeology, and museums - growing up I was lucky to visit many of Michigan's amazing historic sites with my family, like Fayette Townsite and Mackinac State Historic Parks. Then I became curious about what was beyond the shore and beneath the waves of the Great Lakes.
Who influenced you or encouraged you the most?
I had a lot of twists and turns in terms of my career path and so I am lucky to have had many influential mentors along the way who encouraged me to do my best at any given job or volunteer opportunity - because even if your path changes, all experiences are valuable.
What element of your work/study do you think is the most fascinating?
One of the most fascinating things is uncovering the stories of the people who were onboard or associated with a shipwreck, those stories have been forgotten and it is exciting to shine a light on them again.
What other jobs led you to your current career?
I've worked as an archaeologist, taught college courses aboard tall ships for a semester at sea program, and worked as a museum curator and non-profit director. Along the way, I've taken on many roles, and I am a believer in trying new things - because they've often led to new opportunities!
What are your degrees and certifications?
Bachelor of Science, Parks & Recreation Resources & Anthropology, Michigan State University 1993; Masters of Arts, Nautical Archaeology & Maritime History - East Carolina University 1999; SCUBA certification/scientific diver; National Association of Interpreters-Certified Interpretive Guide
What are your hobbies?
I love paddling, tinkering with ROVs, and cooking with my two sons.
How did you get involved with the TBNMS project with OET?
Dr. Ballard's work in Lake Huron documenting shipwrecks early on after the designation of Thunder Bay National Marine Sanctuary helped lead to the expansion of the sanctuary boundaries. When I joined the sanctuary team in I became familiar with Dr. Ballard's early ROV expeditions in sanctuary waters and helped tell that story at our visitor center in Alpena, Michigan. Now, I am lucky enough to be part of the team returning to search for more historic shipwrecks in the expanded sanctuary waters.
What advice would you give someone who wants to have a career like yours?
If you are interested in history, archaeology, interpretation/education, you should talk to as many people in those fields as you can to get an idea of what the job is like. Also, apply for volunteer positions and approach volunteering with enthusiasm, it is a great way to test-drive a job and find out if it is right for you and it also builds skills at the same time. Good communication skills, being able to work as part of a team, and curiosity and the desire to learn new skills throughout your career are some keys to success in getting a position in this field.