Blog:
Meet Ocean Explorer Jose Cisneros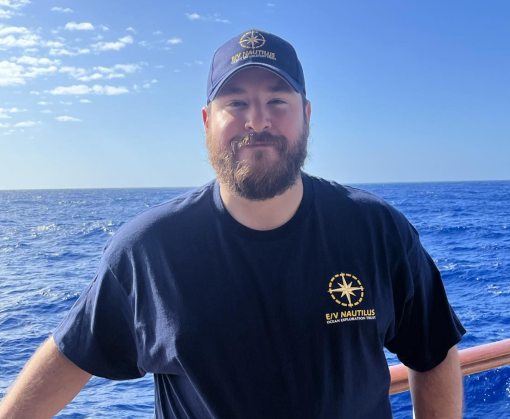 Ocean Exploration Trust
OET proudly welcomes Jose Cisneros to the Corps of Exploration as part of the Science & Engineering Internship Program. This internship program supports community college, undergraduate, and graduate students in building professional workforce experience and exploring STEM-related careers that connect to research themes like robotics, ocean science, education, and exploration. Jose is joining E/V Nautilus for our NA157 expedition as a seafloor mapping intern.
We sat with Jose to learn more about his experience at sea and the path that led him to Nautilus.
Can you tell us a little about your background? What influenced you as a child?
I am a native of Brownsville, Texas, and this coastal city is where I discovered my love of the ocean. My parents were the bedrock of my childhood,  they were hard workers who instilled in me a strong sense of pride and ethics. My father often took me fishing along the coast, teaching me not only the joy of the sport but also valuable conservation lessons. These trips were not only about fishing, but also about learning about nature's delicate balance and the importance of preserving it for future generations.
My mother became the academic trailblazer in our family, completing her degree despite the challenges of late-stage cancer. Her unwavering determination and resilience in the face of adversity left an indelible imprint on me, inspiring my own dedication to hard work and perseverance. Overall, my childhood was filled with the framework that made me who I am today. My life on the coast, my mother's successful academic journey, and the stories of environmental justice from her time as a migrant farmworker, has molded me into a person who has a deep dedication to environmental challenges and conservation.
When you were a kid, what did you want to be when you grew up?
As a child, I was a bit of a handful, always buzzing with curiosity and pestering everyone with my favorite question: why? My interest in math and science was evident from an early age. I had a talent for disassembling toys to discover their secrets. Fast forward to now, and one of the most enjoyable aspects of my job as a research assistant is tinkering with new gadgets and fine-tuning equipment to meet our fieldwork requirements.
What would you consider to be your greatest challenge entering this field?
My most significant challenge in navigating the complexities of this field is maintaining a state of balance. Juggling the roles of a full-time student, a research assistant , and an ongoing effort to polish up my resume, all while caring for my loved ones, can be a tightrope walk.  The danger of biting off more than I can chew and destroying my work-life balance is real. Fortunately, I have a strong support system with people who not only agree with my decisions but also offer encouragement on difficult days.
Do you have any advice for someone looking to follow a similar path?
There are plenty of opportunities, and your team of supporters is out there; all you need to do is choose a direction and give it your all. You should expect disappointments and setbacks from time to time, but your best ally is perseverance. Remember, if you don't ask, the answer is always no! I actively looked for a mentor, pursued financial support, and landed volunteer jobs to gain experience; all by asking for a chance. Those simple questions helped me get to where I am now. Another essential component is flexibility. Having a general idea of what you want to specialize in, but being willing to take advantage of any opportunity to expand your knowledge in that or a related field. The ability to adapt is your most powerful tool.
What's next for your ocean studies and career? 
Finishing the bachelor's journey and transitioning into the master's territory. My sights are set on continuing my research, specifically delving deeper into initiatives centered on restoration and resilience. It's all about riding the academic wave while contributing meaningfully to the field!