Blog:
First Archaeological Survey of Submarine USS Bugara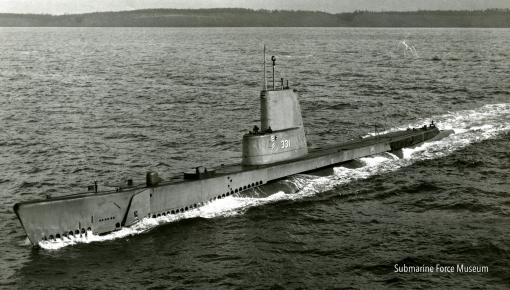 Ocean Exploration Trust
Just offshore the northwest corner of the Olympic Peninsula, a maritime heritage site lies 800 feet below the surface of Olympic Coast National Marine Sanctuary. Resting on the seafloor, USS Bugara (SS-331) is a U.S. Navy submarine that received three battle stars for its service in World War II and later served in the Korean War and Vietnam War before being decommissioned in 1970. While under tow to serve as a target vessel in 1971, the submarine began to take on water and foundered off Cape Flattery, Washington. Ocean Exploration Trust is joining forces with NOAA's Office of National Marine Sanctuaries to conduct the first archaeological survey of the USS Bugara on August 25, 2017, as part of a multi-year Rediscovering History: Wrecks of World War II campaign. Click through our archival USS Bugara photo album. 
Join the Expedition 
Watch Live at NautilusLive.org
Scientists, archaeologists, historians, and educators from across the nation will join the expedition via telepresence, as the exploration is streamed live from ROV Hercules and ROV Argus launched from E/V Nautilus. Anyone with an internet connection can join the expedition starting on August 25 around 4:00am Pacific Time and ask our explorers questions in real-time by tuning into NautilusLive.org.
Connect in a Ship-to-Shore Interaction
Connect LIVE with scientists, engineers, and educators aboard E/V Nautilus at these museums and science centers across the country to learn more about the Bugara expedition and ask questions.
Submarine Force Museum - Groton, CT - 1:00pm ET
Connecticut Science Center - Hartford, CT - 2:00pm ET
Perot Museum of Nature and Science - Dallas, TX - 2:00pm CT
Exploratorium - San Francisco, CA - 12:30pm PT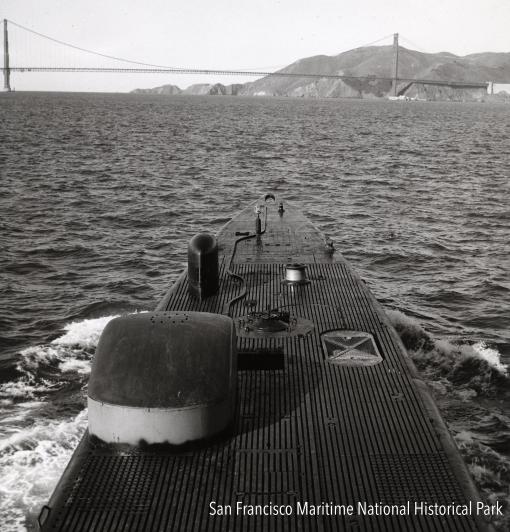 Credit
Ocean Exploration Trust
USS Bugara in World War II
USS Bugara (SS 331) was named for a striped saltwater fish species found off the coast of California. The Balao-class submarine's keel was laid down in 1943 at the Electric Boat Company in Groton, Connecticut. She was commissioned on November 15, 1944 and departed for the Pacific the next month, with Commander Arnold Schade serving as the first commanding officer of USS Bugara.
In February 1945, Bugara commenced war patrols in the Java, Flores and South China seas, and the Gulf of Siam, disrupting trade ronutes. When the war ended during its third patrol, Bugara received three battle stars for its service in World War II and Commander Schade was awarded the Bronze Star medal.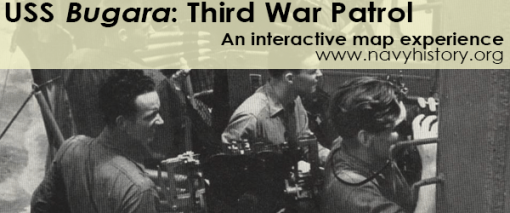 Credit
Naval Historical Foundation
Follow the targets of the Third War Patrol of the USS  Bugara and listen to short podcasts about life on "the  Bug" with Naval Historical Foundation.
Post World War II Bugara Missions
Following the war, USS Bugara spent time in Subic Bay in the Philippine Islands and departed for San Diego, California in 1946. Over the next few years, Bugara was involved in training exercises off Hawaii, Midway Atoll, Guam, Australia, Okinawa, China, Japan, Samoa, and California. In 1950, Bugara supported United Nations Forces in the Korean Campaign but briefly returned to Pearl Harbor for repairs after a frigate rammed the submarine.
Bugara returned to Pearl Harbor in June of 1951 for its fourth overhaul since it was launched, receiving a Fleet Snorkel conversion with the installation of a distinctive streamline sail and removal of deck guns. In 1953, Bugara was seriously damaged during a training mission when struck by a destroyer near Pearl Harbor. The impact caused the submarine to roll severely and enter into an uncontrolled descent, but the crew managed to regain control of the downward plunge and surfaced the submarine. For the next 10 years Bugara continued training throughout the Pacific with the U.S. Seventh Fleet, traveling to the Philippines, Hong Kong, and Japan supporting U.S. activities in the Vietnam War.
After over 7,000 dives, USS Bugara was decommissioned in 1970 at Mare Island, California. On June 1, 1971, a U.S. Navy tug was towing the ex-USS Bugara from the Naval Ammunition Depot at Bremerton, Washington, to a disposal site approximately 100 miles off of Cape Flattery, Washington. The submarine was to participate in torpedo testing as a target vessel, but began to take on water in the stern and started to settle lower into the Pacific Ocean. With the tug at risk of being pulled under, the steel hawser cable was cut, and Bugara foundered shortly after.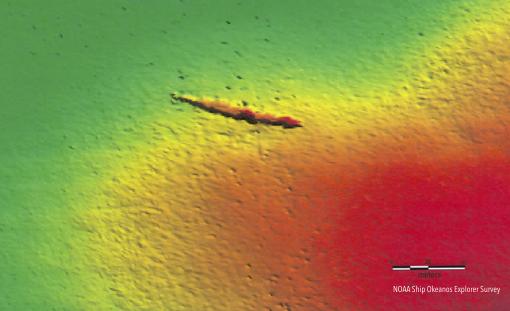 Credit
NOAA Okeanos Explorer
Rediscovering the Ex-USS Bugara 
In 2001, during a remotely operated vehicle (ROV) fiber optic cable survey, the USS Bugara wreck site was confirmed, and a non-archaeological reconnaissance inspection of the exterior hull was conducted. In 2008, NOAA Okeanos Explorer conducted sonar mapping over the site. This August 2017 E/V Nautilus ROV survey will be compared with the results of both of the prior surveys, looking for possible changes in the hull over a 16-year span.
Dive objectives and exploration techniques
Conduct perimeter survey to capture visual record of the entire site and identify potential ROV hazards prior to close examination of the hull 
Complete a photomosaic and bathymetric map of Bugara using ROV Hercules
Document major structural features such as rudder and propellers, hatches, conning tower, torpedo tubes, bilge keels, dive planes, etc
Look for indications that material was removed in preparation to use the ship as a target
Identify areas of deterioration and possible causes 
Investigate the probable cause of vessel foundering, particularly unconfirmed reports of an open hatch
Identify any human impacts, such as strikes from fishing equipment, and the extent of damage
Characterize marine life inhabiting the site and its general abundance 
Complete a perimeter search of the seafloor for displaced artifacts or debris field
Record physical environmental data with available sensors on the ROV and ship that may include conductivity, temperature, depth, and seafloor substrate (using a CTD and subbottom profiler) 
The U.S. Navy has retained title and ownership of the ex-USS Bugara and provides protection under the Sunken Military Craft Act. USS Bugara is located inside Washington state waters and within the federally protected waters of NOAA's Olympic Coast National Marine Sanctuary. Washington state and the National Marine Sanctuaries Act extends protection for the archaeological remains of the wreck site. There are close to 200 historic shipwrecks that have been documented as having been lost, or last seen in Olympic Coast National Marine Sanctuary, including a number of naval vessels and aircraft.
 
USS Bugara (SS 331) Stats
Nationality: American
Class: Balao diesel-electric submarine
Owner: U.S. Navy
Hull Material: Steel
Propulsion: Four each General Motors Model 16-278A, V16 diesel engines driving electrical generators
Displacement Tons: 1,526 surface
Displacement Tons: 2,424 submerged
Length: 311-feet 9-inches
Beam: 27-feet 3-inches
Draft: 16-feet 10-inches
Speed: Knots 20.25 surface 8.75 submerged
Cruising Range: 11,000 miles
Armament: 10 21-inch torpedo tubes, six forward and four aft. A 5-inch 25 caliber gun, with a second gun installed on after deck in 1945. Bofors 40mm and Oerlikon 20mm cannons
Complement: Approximately 10 officers and 71 enlisted
Test Depth: 400 feet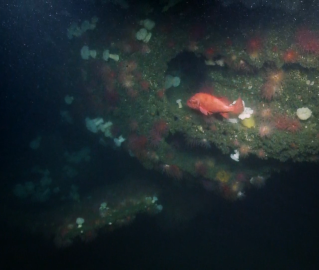 Expedition
Returning to the Pacific Northwest, Nautilus will launch an expedition with dual objectives in Olympic Coast National Marine Sanctuary, covering 3,189 mi2 of coastal and offshore waters along one of the least developed coastlines of the continental US.