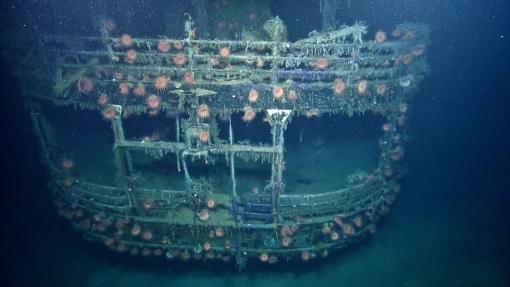 Ocean Exploration Trust
Many of the shipwrecks E/V Nautilus comes across are covered in biology, ranging from huge lophelia coral to beautiful flytrap anemones and much more. Check out the video below - it highlights some of the wrecks we've seen in the past week, all of them home to different sea creatures. What makes shipwrecks such a popular deep sea habitat, especially in areas that are otherwise mostly empty of life?
First, the wreck provides what sessile deep sea creatures crave most in a habitat: a hard substrate on which to live. This is why deep sea coral are mostly found on rocky outcrops instead of in the seafloor sediment. Wooden wrecks will typically disintegrate, but the more modern metal wrecks have proven to be a perfect resting spot for many stationary ocean dwellers. Most of the large animals we see began life in a much different form, as tiny drifters floating through ocean currents looking for a place to take root. When the first thing they come across is a shipwreck, they'll treat it much like they would a rocky outcrop.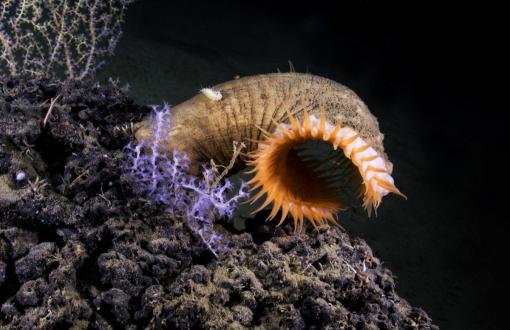 Credit
Ocean Exploration Trust
Along with the hard substrate, the wreck also provides elevation above the seafloor and into the current. Life is hard in the cold waters of the deep sea, and animals looking for food are more likely to survive if they can obtain a meal while expending as little energy as is possible. This means finding a spot to stay still and pick up food as it drifts past. That is why you'll typically see all of the inhabitants of a wreck, like the above flytrap anemone, facing the same direction: mouth into the current.
The things we see growing on wrecks aren't always so obvious. One common phenomenon is known among scientists as the "rusticle." A portmanteau of rust and icicle coined by the Ocean Exploration Trust's very own Dr. Ballard during his Titanic discovery, rusticles are formed by microbial colonies oxidizing iron on shipwrecks. You can learn more about them from NOAA here.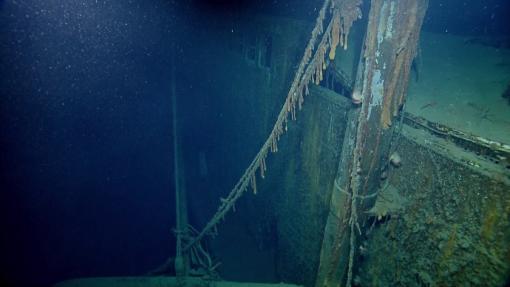 Credit
Ocean Exploration Trust
More research is needed before we can fully understand the effects of huge metal shipwrecks on the ocean floor, but biology-covered hulls like these certainly show a common theme in science best stated by Jurassic Park - "life finds a way."