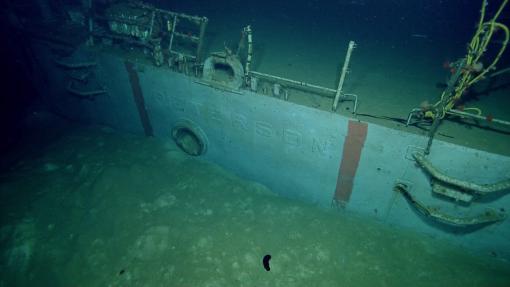 Ocean Exploration Trust
Earlier today E/V Nautilus dove on an sonar unknown target, thought to be a 500 foot-long shipwreck. After a survey of the wreck with ROV Hercules, the Corps of Exploration successfully identified the vessel as USS Peterson (DD-969). We have video highlights from the dive here:
Peterson was a Spruance-class destroyer originally built in the mid-1970s in Pascagula, Mississippi (right down the road from Gulfport, a regular port of call for Nautilus). The 529 foot vessel spent most of her early career overseas, with deployments in the Persian Gulf, Mediterranean Sea, and Libya during the 1970s and 80s. She earned a commendation for crossing the Arctic Circle in 1985, and later saw combat in the red sea during Operation Desert Storm.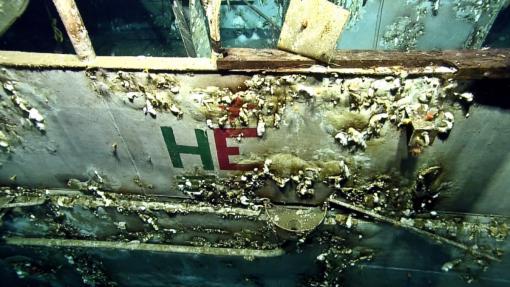 Credit
Ocean Exploration Trust
See the two letters on the side of the ship, the H and E? The green H means the ship receieved a "Health and Wellness (Medical) Excellence Award" while the red E indicates an "Engineering/Survivability Excellence Award."
Near the end of her career she returned home, operating off the coast of Haiti and running counter-drug operations near Central and South America. After one final stint in the Middle East during the early 2000s, she was decomissioned in 2002 and sunk in 2004 by the U.S. Navy during weapons testing operations. Her bell was moved to Baldwin County, Alabama, but the rest of the ship sits in 2,400 meters of water, unseen for ten years until earlier today.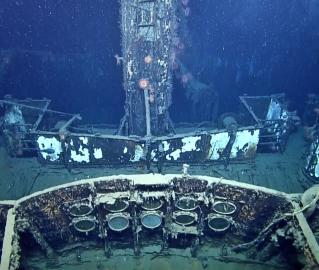 Expedition
This expedition focused on documenting the myriad natural and cultural resources that lie in U.S. waters for the joint National Geographic and 60 minutes television special, The Unknown America. Some exploration sites visited include brine pools, deep-water coral reefs, and several shipwreck sites.