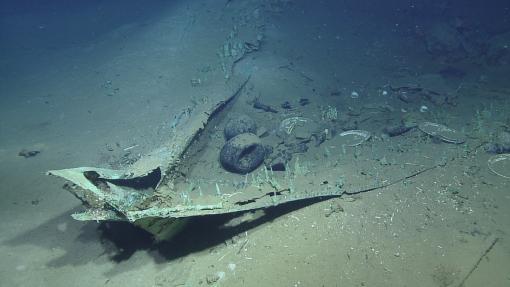 Ocean Exploration Trust and Meadows Center for Water and the Environment
Nautilus is hovering with computerized precision 1330 meters above a 200 year old shipwreck off Flower Garden Banks National Marine Sanctuary. Watching from the control van, the pilots, navigators, data managers, educators, and archaeologists intently study and direct the action as Argo and Hercules transmit high resolution video, sonar and data from the depths as they glide over the wreck.
The crew of Nautilus, professional and skilled mariners, handle the ship and ensure our safety and comfort while the ROV and mapping teams work around the clock to ready the vehicles and process the data. Ashore, linked by satellite are a few dozen biologists, geologists, oceanographers, historians and archaeologists in onshore exploration command centers at Texas State University, Texas A & M Galveston, and the University of Rhode Island. There are other scientists calling in from their desktops and laptops and iPads. The are also thousands of interested members of the public, including some very knowledgeable people logged on. What this means is that this mission is all about teamwork. Everyone has a key part and play, and we can't do any of this without each other. The archaeology team includes members of the Bureau of Ocean Energy Management, the Bureau of Safety and Environmental Enforcement, NOAA's Office of Ocean Exploration, NOAA's Office of National Marine Sanctuaries, the Texas Historical Commission, the Meadows Center for Water and the Environment at Texas State University, the Maryland Heritage Trust, and the Ocean Exploration Trust. We are gathered to learn more about this shipwreck and to share what we learn with the public.
The project is funded by generous private sponsors and foundations, not tax dollars other than those of who work for the public's salaries, at the same rate which we'd earn at our desks if not out where working for the public bringing the results home for you.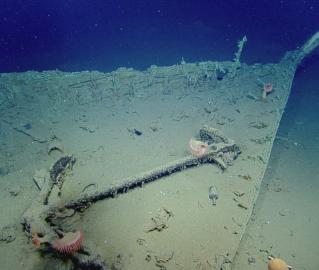 Expedition
The Discovery
In April 2012, the National Oceanic and Atmospheric Administration (NOAA) ship Okeanos Explorer conducted the first reconnaissance of shipwreck site 15577 as part of an interdisciplinary exploration mission focusing on deepwater hard-bottom habitat, naturally occurring gas seeps, and potential shipwrecks in the Gulf of Mexico.