Located 20 miles east of Ta'u Island in the South Pacific waters of the National Marine Sanctuary of American Samoa, the Vailulu'u Seamount represents a perfect example of the ever-changing and contrasting world that makes up the deepest marine environments. The region was last mapped in 2017 when the NOAA Ship Okeanos Explorer explored the volcano for its geologically and ecologically unique characteristics. At the time, visibility was too poor for researchers to fully characterize the area and the scientific community was left wondering what existed below the oceanic surface. In 2019, the E/V Nautilus send ROV Hercules and Argus to explore at depths of 1800 meters in order to collect a variety of samples, including biological and geological specimens.
Seamounts are undersea mountains that are formed by volcanic activity. Vailulu'u is the most active submarine volcano in this area and is believed to have erupted between 2001 and 2005, at which point a new tall lava cone was formed measuring nearly 240 meters (almost 1000 feet) tall. It was subsequently named Nafanua after the Samoan goddess of war.
Album curated by Science Communication Fellows Valeria Tamayo Cañadas and Madison Dapcevich.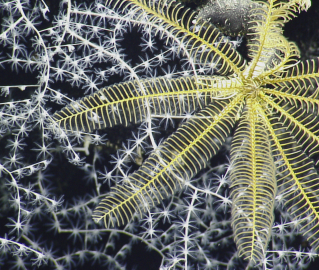 Expedition
The main objective of this expedition is to acquire baseline information on deep-sea and mesophotic habitat in American Samoa, with a special focus on the National Marine Sanctuary of American Samoa (NMSAS). Within deep-sea habitats, seafloor geology and biological communities will be documented and potentially new species of deep-sea coral and subsamples of rocks will be collected. In addition to seafloor mapping with multibeam sonar, a Lagrangian float will be utilized to capture high resolution photographic images of the mesophotic zone and associated biota.