The National Marine Sanctuary of American Samoa is comprised of over 13,000 square miles of area within the Samoan Archipelago. This makes it not only the southernmost of all United States National Marine Sanctuaries, but the largest as well. Due to its remote location and vast expansion in 2012 from only a quarter of a square mile to its current size also makes it one of the least explored of the National Marine Sanctuaries. E/V Nautilus has aimed to play a role in changing that as the Ocean Exploration Trust works with NOAA Office of National Marine Sanctuaries and other local agencies including National Park of American Samoa and the Coral Reef Advisory Group to better understand the seafloor geology and deep water biology of the area by surveying and sampling a variety of the unique areas within this expansive region. By completing fish survey transects, using photogrammetry to create models of different sea floor environments, and collecting samples, scientists onboard and on shore are gaining a better understanding of what this sanctuary has to offer.
Album curated by Lead Science Communication Fellow Brian Soash.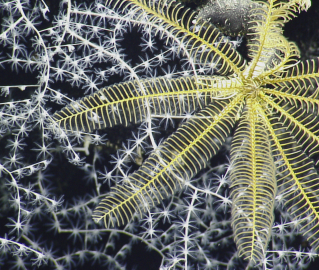 Expedition
The main objective of this expedition is to acquire baseline information on deep-sea and mesophotic habitat in American Samoa, with a special focus on the National Marine Sanctuary of American Samoa (NMSAS). Within deep-sea habitats, seafloor geology and biological communities will be documented and potentially new species of deep-sea coral and subsamples of rocks will be collected. In addition to seafloor mapping with multibeam sonar, a Lagrangian float will be utilized to capture high resolution photographic images of the mesophotic zone and associated biota.