Although E/V Nautilus's work on Ocean Networks Canada's NEPTUNE observatory focused on scientific instrumentation and experiments, the team also found many unique macrofauna making their homes across the Juan de Fuca plate. This life appeared not only on the seafloor, but at the surface and in the pelagic region - commonly referred to as "blue water" - as well. This album examines some of the more eye-catching animals that ROVs Hercules and Argus encountered during this cruise in the Northeast Pacific Ocean.
Album contributed by Science Communication Fellows Alexander Havens and Shannon Donovan.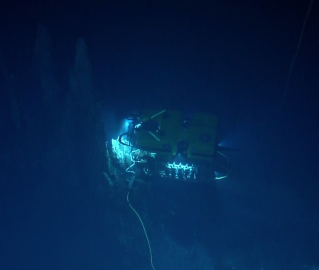 Expedition
This expedition marks the fourth season of E/V Nautilus exploring Canadian waters in partnership with Ocean Networks Canada. The main objective of this expedition is to provide maintenance and support of Ocean Networks Canada's NEPTUNE observatory located off the west coast of Canada.