Photo album:
Preliminary Findings from the Nautilus Meteorite Hunt
In July 2018, Exploration Vessel Nautilus attempted to locate and recover fragments of a rare, large meteorite fall that was recently observed in NOAA's Olympic Coast National Marine Sanctuary off the coast of Washington. An overnight multibeam sonar survey on July 1 attempted to identify possible meteorite impact locations, but no obvious changes to the seafloor were observed. On July 2, ROVs Hercules and Argus were launched to conduct a 7-hour visual survey of the seafloor in a region identified to likely include the impact site. While exploring this area, the Nautilus team collected several sediment samples using a suction hose sampler, magnetic plate, and sediment scoop. Upon recovering the vehicles, the team spent about six hours in the ship's wet lab sifting and processing through these silty samples.
NASA Cosmic Dust Curator Dr. Marc Fries conducted an initial visual analysis of the samples collected, and his preliminary findings include two small fragments of fusion crust--meteorite exterior that melted and flowed like glaze on pottery as it entered the atmosphere. Additional analysis will be conducted in the coming weeks to determine if these fragments indeed came from the massive meteorite fall seen entering the Pacific Ocean off Washington's coast in March 2018. We will continue to post updates on this exciting research as we learn more!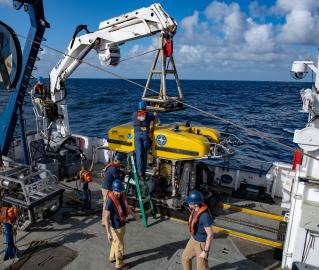 Expedition
This short expedition will transit from Astoria, Oregon to Sidney, British Columbia and will include seafloor mapping with the E/V Nautilus multibeam echosounder and sub-bottom profiler.