Photo album:
Rediscovering History: Submarine USS Bugara
Diving off Cape Flattery, Washington in Olympic Coast National Marine Sanctuary, E/V Nautilus conducted the first detailed archaeological survey of USS Bugara on August 25, 2017. The exploration was live streamed to the world and featured commentary from scientists, archaeologists, historians, and veterans who served on this submarine over its 27-year career. Click through to see some of the most stunning captures of this wreck becoming a reef, and learn more about the ship's condition after 46 years on the seafloor. Learn more about this expedition. 
Contributed by Science Communication Fellows Megan Chen, David Downing & Linda Fergusson-Kolmes.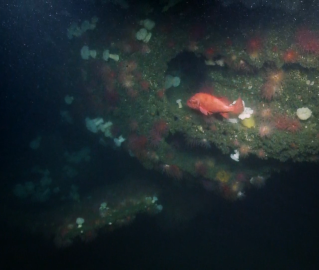 Expedition
Returning to the Pacific Northwest, Nautilus will launch an expedition with dual objectives in Olympic Coast National Marine Sanctuary, covering 3,189 mi2 of coastal and offshore waters along one of the least developed coastlines of the continental US.