Photo album:
Above the Surface on ECOGIG
Not all of the excitement of ECOGIG is under the water - these pictures provided a behind-the-scenes look at Nautilus operations, from the deck to the control van and more.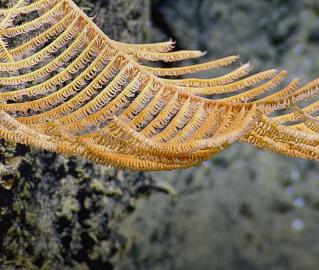 Expedition
This cruise is part of a larger research program focused on examining the ecosystem-level response to oil and gas in the Gulf of Mexico. The research group leading the cruise is called the Ecosystem Impacts of Oil and Gas Inputs into the Gulf of Mexico (ECOGIG) Consortium, which is made up of scientists from a wide variety of disciplines studying current flow, ocean chemistry, microbial activity, deep-sea coral communities, and everything in between.