Photo album:
Behind the Scenes: Straits of Florida
A few on-deck highlights from our first dive of the season off the coast of the Bahamas. It takes a lot of preparation to get Hercules and Argus into the water, but our team is up to the task.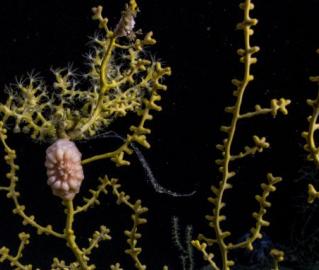 Expedition
This cruise will focus on the discovery of new cold-water ecosystems and improved understanding of underwater geological hazards and processes. The Straits of Florida is a trough that separates the Florida Peninsula from Cuba and the Great Bahamas Bank. Due to the differences in geological, oceanographic, and chemical processes within this region, the deep water contains some of the greatest species richness in the Atlantic Ocean.