Video:
An Engineer's Secret to Finding Lost Robots: MATH!
Engineers use a variety of tools and talents to make ocean exploration happen and one of the most important instruments in their toolbox is math. By applying algebra and calculus, Ocean Engineer Val Schmidt walks us through how he programs uncrewed surface vehicle (USV) DriX to execute an optimized search pattern should a vehicle get lost while underwater. When we use these vehicles in tandem, it provides for more advanced ocean exploration and we have math to thank for it!
Learn more about this expedition funded by NOAA Ocean Exploration via the Ocean Exploration Cooperative Institute.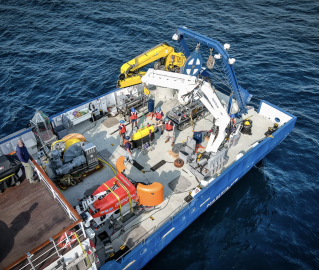 E/V Nautilus Expedition
A key objective of the NOAA Ocean Exploration Cooperative Institute (OECI) is to develop the tools and technology that enable ocean exploration activities to be conducted remotely or without human supervision.