Video:
First Findings from Searching for Paleo Shorelines in the Channel Islands
The search for submerged shorelines continues! In 2017, the Nautilus team partnered with Channel Islands National Marine Sanctuary to develop a baseline understanding of how to identify and document paleo shorelines along the Southern California coast. As we launch the next component of this expedition in 2018, learn more about last year's findings and this ongoing research! More on this expedition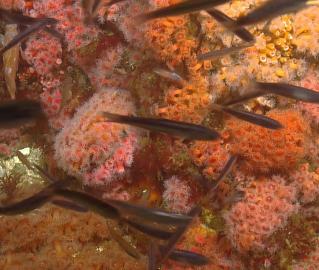 Expedition
The primary focus of this expedition is the identification and characterization of submerged shorelines associated with offshore banks in the southern California Borderland region. This is a continuation of the effort by Nautilus over the last four years to acquire high-resolution mapping data of submerged shorelines and characterize primarily with remotely operated vehicles.
Expedition
The Channel Islands National Marine Sanctuary (CINMS) is one of the agencies tasked with the protection of deep-water habitats, commercially important species, and deep sea coral ecosystems around the islands, yet lacks a detailed understanding of the distribution, abundance, and condition of the resources within the Sanctuary.