Video:
Red Shrimp Cluster Around a Gas Seep
We've encountered a number of gas seeps deep in the crater of Kick 'em Jenny, the Caribbean's only active submarine volcano, but this one was special - the seep was crawling with a whole colony of red shrimp. These shrimp feed off of the chemosynthetic bacteria supported by the gas seeps.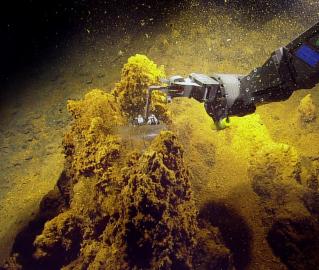 Expedition
This cruise to the southern Lesser Antilles volcanic arc is part of the INSPIRE project, funded by NSF with the purpose of studying and improving telepresence for ocean exploration. Scientists will implement several student-designed exploration projects led from shore. Kick'em Jenny is the most active submarine volcano in the Caribbean Sea, and during the past century it has shown a history of progressive growth with explosive eruptions.