Video:
Students Launch Ocean Drifter
During their month long stay at the University of Rhode Island's Graduate School of Oceanography, OET Honors Research Program students were tasked with building two ocean drifters per group, based on plans from studentdrifters.org, a program run by NOAA. Each group built two drifters: a surface drifter and an underwater drifter, or drogue. Each drifter has a GPS tracker embedded in the buoy which will periodically report its location through a satellite. 
Related Links:
2014 Honors Research Program Recap
Hight School Students Conduct Research with the Corps of Exploration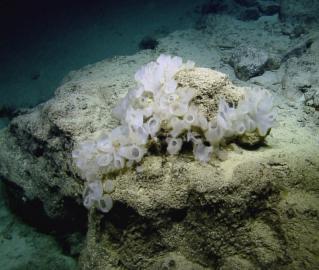 Expedition
The deep waters around and off the coasts of the Belizean cayes and atolls are among the least studied areas of the Caribbean Sea. The 2014 Nautilus cruise to the western Caribbean will conduct seafloor mapping and ROV exploration of the areas around and offshore the cayes and atolls of the Belize Barrier Reef, including potential mud volcanoes off Turneffe and Lighthouse atolls. Additionally, archaeological survey will be conducted with side-scan sonar and ROVs in areas of historical importance around the Belizean cayes.