Technology:
ROV (Towsled) Atalanta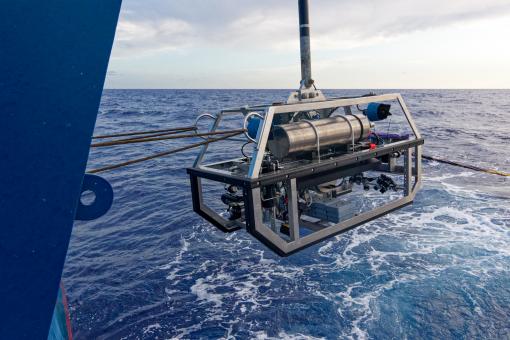 Ocean Exploration Trust
Atalanta was first launched in 2019 and is a smaller version of Argus used in tandem with ROVs Little Hercules or Hercules, where it hovers several meters above in order to provide a bird's-eye view of the ROV working on the seafloor. Atalanta is also capable of operating as a stand-alone system for wider-scale deepwater survey missions or as a sled for towed sensors like sidescan sonars.
Science & Tech
Ocean exploration is a dynamic balance of understanding science and using the best in underwater technology.
Expeditions
Get a sneak peek of where we're headed next or revisit the discoveries of our past expeditions.
Classroom Resources
OET hosts a suite of free educational materials for use in classrooms, at home, or in the community.
ROV Atalanta At-a-Glance
General
 6,000 meters (19,685 feet)
 2.16  meters long × 1.0 meters wide × 1.2 meters tall
 1000 kg (2200 pounds) in air.  1700 pounds in water
 2 knots
 20–30 meters/minute, (65–98 feet/minute) max
 Two Tecnadyne Model 1020 1 HP thrusters for heading control
Imaging & Lighting
One Insite Pacific Mini Zeus high-definition camera
Two mini utility cameras (fixed mounted) 480 line NTSC format

Eight Deep Sea Power & Light (LED) LSL-1000 SphereLights
Vehicle Sensors & Navigation
 Lord Microstrain 3DM-GX5-25 Attitude and Heading Reference System (AHRS)
 Paroscientific Digiquartz 8CB series
 Valeport VA500 500Khz Altimeter 
 Mesotech 1071, 675 kHz, 0.5–100 meter range typical 
Scientific Instrument Support
 110 V 60 Hz AC, 24 VDC and 12 VDC power options
  Ethernet, RS-232