Technology:
ROV Little Hercules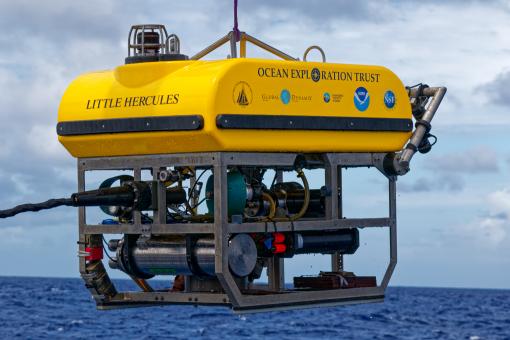 Ocean Exploration Trust
The ROV Little Hercules is a smaller sister to Hercules, designed to function similarly, with Argus or Atalanta but with a focus on gathering high-quality video imagery. Little Hercules is equipped with a high-definition or 4k video camera, LED lights, and basic sensors for navigation and situational awareness.  Little Hercules was originally built in 2000, and was extensively refurbished and upgraded to 6000 meter capability in 2019.
Science & Tech
Ocean exploration is a dynamic balance of understanding science and using the best in underwater technology.
Expeditions
Get a sneak peek of where we're headed next or revisit the discoveries of our past expeditions.
Classroom Resources
OET hosts a suite of free educational materials for use in classrooms, at home, or in the community.
ROV Little Hercules At-a-Glance
General
 6,000 meters (19,685 feet)
 30–45 meters (98.4–147.6 feet), 20 millimeters (0.79 inches) diameter, neutrally buoyant
 1.4 meters long × 1.0 meters wide × 1.2 meters tall
 400 kilograms (900 pounds) in air.  100 lbs payload
 2 knots
 20–30 meters/minute, (65–98 feet/minute) max
 Four Tecnadyne Model 1020 thrusters for heading control
Imaging & Lighting
High definition or Ultra High Definition
Two mini utility cameras (fixed mounted) 480 line NTSC format

 

Four Deepsea Power and Light LED Spherelights
Vehicle Sensors & Navigation
 Lord Microstrain 3DM-GX5-25 Attitude and Heading Reference System (AHRS)
 Paroscientific Digiquartz 8CB series
 Valeport VA500 500Khz Altimeter 
 Kongsberg Mesotech 1071 scanning sonar, 675 kHz, 1–200 meter (3–656 feet) range typical
Scientific Instrument Support
 110 V 60 Hz AC, 24 VDC and 12 VDC power options
  RS-232 serial, Ethernet: 10/100/1,000 mbps links available
Remotely Operated Vehicle Positioning
The ROV systems are outfitted with an ultrashort baseline (USBL) navigation system compatible with the operational platform and scientific requirements. 
 Sonardyne Ranger II  or TrackLink 5000