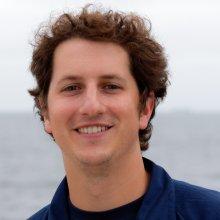 Will Sautter
Science/Data Team
Marine GIS Analyst
NOAA/NCCOS/Biogeography Branch
Tell us about your work / research. What kinds of things do you do?
I specialize in seafloor mapping and marine GIS, with a focus on multibeam sonars. I have a BS in Geology from Appalachian State and a certification in ArcGIG. At the NOAA Biogeography Branch, most of my work is for habitat monitoring and classification, which combines remotely sensed data with underwater video footage to analyze the changes in the benthic communities over time and space. I also specialize in backscatter collection/processing/analysis to understand changes in the geomorphology of the seafloor. 
What sparked your initial interest in your career?
Growing up in Charleston, SC, I have always been fascinated by the oceans and loved fishing, surfing, and boating along the coast. Then I visited rocky west coast of the US as a teenager and became even more interested in the earth processes that create these environments. I wanted to study geology at Appalachian State in the Blue Ridge Mountains, but I decided to try the new Environmental Geology track and became introduced to GIS. Realizing all of the possibilities of using GIS to map the coast and the seafloor, I jumped right into my career in marine science as soon as I graduated from ASU in 2010 and have been exploring ever since!
Who influenced you or encouraged you the most?
My mom, who is a very well respected scientist and explorer.
What element of your work / study do you think is the most fascinating?
I think making maps of the seafloor and actually analyzing it using ROV or diver video is very exciting, because you actually see what is really down there instead of looking at just echoes on the Sonar. 
What other jobs led you to your current career?
I worked on board a fisheries independent vessel with the South Carolina Department of Natural Resources in the Gulf Stream for one season, and became very familiar fish assemblages of the Southeast Atlantic. I learned a lot about the different habitats and migratory patterns those fish and other marine life have adapted to, which gave me a better understanding of the greater marine ecology offshore from where I grew up.
What are your degrees and certifications?
Bachelor of Science in Geology and Student Certification in GIS
What are your hobbies?
I am in a few bands in the Washington DC area, but I also enjoy freshwater and saltwater fishing. 
What advice would you give to someone who wanted to have a career like yours?
Choose your path and stick to it. Keep asking questions. Try to share what you have learned with others. And try to stay positive and have fun.
How did you get involved in the Nautilus Exploration Program? How did you get on the ship?
I have been involved with mapping efforts in the Channel Islands National Marine Sanctuary for two years aboard the Bell M. Shimada and was asked to join the Nautilus Mission in CINMS to advise the OET scientists on collecting backscatter data and meeting NOAA standards for multibeam.
Expeditions
Will participated in the following Ocean Exploration Trust expeditions: