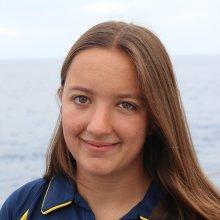 Wendy Snyder
Argus Pilot
Graduate Student
University of Rhode Island
Tell us about your work/research. What kinds of things do you do?
I am currently working on a masters thesis developing a low power inertial navigation system for glider type underwater autonomous vehicles (AUVs). This includes sensor selection and integration as well as testing the system and processing sensor data into a navigation solution.   
What sparked your initial interest in your career?
I grew up surrounded by engineers (my dad, both my grandfathers and my older brother) and in high school found I really enjoyed math, science, and problem-solving. This ultimately led me to pursue a career in engineering. After watching Nautilus Live when my brother was working on the E/V Nautilus, I became interested in the jobs of the ROV pilots and ultimately decided to apply to become an ROV Intern in 2015. After working on the Nautilus for two summers, my previous interest in engineering and acoustics has combined with a new found interest in the ocean leading me to pursue a career in underwater acoustics and underwater vehicles.
Who influenced you or encouraged you the most?
Watching my father and grandfathers work as engineers my entire life, always building things around the house, and then seeing my older brother become an engineer definitely influenced my decision to become an engineer. They were always willing to sit down and help me with difficult assignments and I always enjoyed talking with them and learning about the things they did as engineers.  
What element of your work/study do you think is the most fascinating?
Being in the control van during dives is really exciting. You never really know what you are going to find or see when you are exploring new regions of the ocean floor and the diverse backgrounds of the watch team always make for a fantastic learning environment. I love that as an engineer I still get to learn a lot about ocean biology and geology while at work. At school, I love the balance I have found between engineering coursework and engineering extracurricular. I learn new concepts in the classroom and then get to go out and apply them to a real application through Baja. Understanding the usefulness and applications of what I am learning makes it that much more fun and engaging.
What other jobs led you to your current career?
  As a college student, I have not had other jobs in the field but the valuable hands-on experience I gained through extracurricular activities like the Baja SAE team helped provide me the skills and experience I needed to learn to work on the ROVs. Such skills include design, machining, and creative on the spot repairs with limited resources.  
What are your degrees and certifications?
  I recently graduated from the University of Rochester with a Bachelor of Science in Mechanical Engineering and a Minor in Music. I am currently working toward a Masters in Ocean Engineering at the University of Rhode Island focusing on inertial navigation and acoustic tracking of AUVs.  
What are your hobbies?
  I am an avid swimmer and an aspiring triathlete. I also enjoy playing the violin and solving Rubik's cubes.   
What advice would you give to someone who wanted to have a career like yours?
  Don't be afraid to try something new, and strive to learn something new from every experience, be it good or bad. In engineering, the knowledge and skills gained in doing actual design and manufacturing can be just as important as the theory covered in coursework. Get involved in any hands-on engineering projects you can whether it be a high school robotics team, college engineering club, or your own individual projects.    
How did you get involved with the Nautilus Exploration Program? How did you get on the ship?
  I first joined the Nautilus team in 2015 as an ROV Engineering Intern after applying for SEIP. My older brother worked as both a data engineer and ROV pilot on board the Nautilus and encouraged me to apply for the internship. I have been returning as an ROV pilot every summer ever since and am very excited to be back again this season!   
"I am excited for the opportunity to explore the ocean while working hands on alongside experienced researchers and engineers."
Expeditions
Wendy participated in the following Ocean Exploration Trust expeditions: