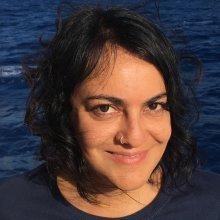 Valeria Tamayo Cañadas
Science Communication Fellow
Recent Graduate
University of California, Santa Barbara
Tell us about your work/research. What kinds of things do you do?
I consider myself a versatile person and believe my work history is a reflection upon my varied interests. In Ecuador, my home country, I produced radio and TV shows, directed puppetry and dance performances, contributed to scientific and economic research, and directed multimedia art pieces. In the Galapagos Islands, I specialized in bridging the gap between science and community to empower both parties to better manage their natural resources. I have worked with biologists, geologists, engineers, and managers in the field to find creative solutions to solve environmental problems. Sometimes these strategies involved arts and communications to raise awareness in local communities, yet sometimes they included modifying local policy to better regulate the use of plastics, control exotic species, or manage fisheries.
What sparked your initial interest in your career?
As a child I had a special interest in geography and history. Even if I felt the call of the ocean, its exploration was a dream that would never come true for a mountain South American girl. After undergrad, when I moved to the Galapagos Islands, the distant dream from childhood was suddenly more reachable. My work as an educator and science communicator only enhanced my need to deepen my knowledge of our planet as a system. That is how I decided to go to Grad School and take the Coastal and Marine Specialization at the Bren School of Environmental Science and Management.
Who influenced you or encouraged you the most?
Nature, the beauty of its colors, the way it provides a feast for the senses and calmness for the soul. Nature is the ultimate source of my inspiration. My parents and science teachers were very encouraging. Working with children and scientists made me value our human natural curiosity and the importance to enhance it. Both inspired me.
What element of your work/study do you think is the most fascinating?
Looking into the eyes of a giant tortoise, seeing a marine iguana diving, monitoring sea urchins and sea turtles, taking students to do so and seeing their faces go wow!!! It is one of the most fascinating moments of what I do! Especially when the students are adults, the face of amazement of an adult, when those adult eyes turn into a child's eyes is priceless.
What other jobs led you to your current career?
It is difficult to choose one. My job as a teacher of history and geography made me realize how humans and nature are one and the same. Working as a yoga instructor, radio and TV host, dancer and choreographer, history facilitator at a museum, ecology instructor and citizen science promoter, all have been part of this interconnected history. I feel like just as in nature, everything in my life has been connected and everything has contributed to who I am today and what I want to do in the future.
What are your degrees and certifications?
Bachelor in International Relations and Business - Pontifical Catholic University of Ecuador 2009;
Masters in Environmental Science & Management - Bren School, University of California Santa Barbara 2019;
Advanced Scuba diver PADI 2016, Yoga and Biomechanics Instructor 2016
What are your hobbies?
I love snorkeling, diving, hiking, and camping, watching the stars at night and synchronizing my breathing with the waves at the sea. One of my passions is dancing, lately, I started to practice aerial silks and I love it! Painting and crafting are also part of my creative toolbox. Most of my inspiration comes from the ocean.
What advice would you give to someone who wants to have a career like yours?
Make the most of your experience in formal education, but do not forget that your creativity and potential goes beyond classes and professors. It is up to you to believe in your potential! Find your passion and link it to do great things for our planet!
How did you get involved with the Nautilus Exploration Program? How did you get on the ship?
I learn about the Nautilus when the ship visited the Galapagos in 2015. I started following it, I was amazed about what the team does! After some years I learned about the Science Communication Fellowship, and I am excited to be on board!
Expeditions
Valeria participated in the following Ocean Exploration Trust expeditions: